As the sun colors flowers, so does art color life."  ~John Lubbock
Despite all the work involved, owning and caring for a second home is a privilege — especially if that home was designed by Frank Lloyd Wright. For me, one of the most exciting aspects of our Wright home in St. Joseph is that it's so unlike our 1926 Craftsman-style Tudor home in Royal Oak. It gives me an opportunity to explore a fresh new era of interior — and exterior — design.
Designed in 1957 and filled with many of its original Wright-designed furnishings, our ranch-style Usonian home evokes both streamlined Scandinavian and Mid-Century modern styles. Whenever I'm sitting in the living room, for instance, I can almost picture the cast of Mad Men kicking back on the sofa with their cocktails. Anyone for a martini?
Likewise, the gardens at both homes are practically polar opposites. (If you've been following my blog for a while, you've seen plenty of photos of my garden in Royal Oak!)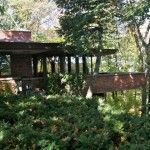 In this post, I've included a couple of new photos from the Wright house. In the detail shot of the planter near the front door (bottom photo), you'll see a large ceramic sphere that blends with the red brick and concrete used in and around the house. This area gets a lot of sun, so I've mingled succulents with the perennial grasses. The sphere was a gift from our longtime family friends, the Hemmings, as a memorial to Doug's dad, who died last summer. Doug's dad always enjoyed gardening, and I'm sure he would have appreciated this tribute.
We purchased our most recent piece of garden art (top photo) from the annual Krasl Art Fair on the Bluff in St. Joseph last weekend. It charmed me as soon as I saw it. Constructed from rusted scrap metal and embellished with rocks, this quirky sculpture features a part that moves like a weather vane or a mobile when the breeze blows through.
For now, we're enjoying the sculpture on the terrace, which overlooks the woods and St. Joseph River (terrace shown in photo above). The piece looks right at home surrounded by the natural, untamed landscape — just the way Wright himself would have liked it. My next challenge is learning which plants the deer won't eat. Any suggestions? –CL
— Photos of the Charles Schultz exterior by Cindy La Ferle. For a larger view, please click on each photo. —