Tables of paper wood, windows of light/ And everything emptying into White." — Cat Stevens, "Into White"
The thing I love best about redecorating is that it inspires us to look at our old rooms in new ways. A "re-do" doesn't necessarily require that we buy more furniture or knick-knacks — though paint, hardware, and elbow grease are typically involved. And while shelter magazines offer creative ideas (and jazzy new things to purchase), it still boils down to re-imagining what we already own.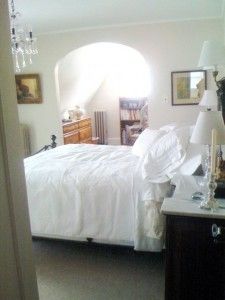 In January, Doug and I finally decided to freshen up the master bedroom. We'd been living for several years with murky, sponge-painted walls and a dark rug in a busy Southwestern pattern. The room looked cluttered and weary — and it felt claustrophobic.
We needed to lighten things up. So we cleared out the space and hired a carpenter-friend to rebuild the old closet. Doug applied two different shades of white paint for the walls and trim. And while we prefer hardwood floors and area rugs in our home, the floor was in such bad shape — and cold during Michigan winters — that we made an exception and had pale taupe carpeting installed.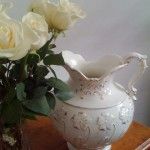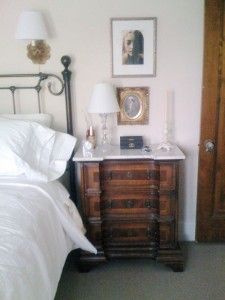 Taking advantage of the winter sales, I bought white linens in a variety of textures, and a simple, quilted white coverlet. We didn't have to purchase any new furniture (our old pieces look nice against the white walls), but we added a new shabby-chic style chandelier from Lowe's — a bargain at a little over $100. The project took longer than we'd hoped, due to a mix-up with carpeting measurements and an aggravating delay in the re-ordering process. But all said and done, Doug and I are pleased with the result.
Having spent the past year immersed in my widowed mother's ongoing health crises — and trying to help her make sense of things — I didn't realize how many key areas I'd neglected in my own home. Until recently, I was too tired (and uninspired) to make time to sort through it all. I'm slowly catching up now, one room at a time.
How good it feels to get my own life back in order now that spring is almost here. Our freshly decorated bedroom is a peaceful oasis in the midst of so many questions marks. — Cindy La Ferle