Research is confirming what many mothers have been discovering—that "empty nest" syndrome isn't so empty after all." — Naomi Barr
It's going to be a roller coaster season for a friend whose youngest child graduates from high school this month, then heads off to college in August. Working through her conflicting emotions, my friend gets a little teary at the thought of one less place setting at the dinner table, yet she's thrilled at the prospect of gaining an extra bedroom this fall.
My sons last year in high school was a bittersweet time for me, too. Like Janus, the ancient Roman god of gateways, beginnings, and endings, I found myself looking forward and backward when Nate closed the door on Shrine Catholic High School and prepared for his new life at the University of Notre Dame.
When I wasnt caught up in the May-June whirlwind of award banquets and graduation parties, I spent a lot of time wondering where my boy's childhood had flown. I'd search for it in a family album crammed with precious photos of birthday parties, camping trips, Christmas mornings, and Halloween nights.
Around that time, it also hit me that one of the sweetest gifts of midlife is the maternal amnesia that blurs the other memories of infancy and childhood — the exploding diapers; the marathon temper tantrums. Not to mention those snarky adolescent insults. When our kids prepare to leave home for college, after all, we tend to focus mainly on the Hallmark moments.
All of this reminiscing seems a bit maudlin to me now. But revisiting the highlights of my sons childhood helped soothe my empty-nest blues.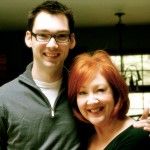 I also learned that grieving isnt unusual in the early weeks of empty nesting. Raising children gives us a sense of mooring and purpose — which suddenly disappears when they move out.
"I rarely found a parent who didn't feel a sense of uneasiness when approaching this new phase," write Margo Woodacre Bane in I'll Miss You Too: An Off-to-College Guide for Parents and Students (Sourcebooks). "Whether the parent faces the departure of an only child, a first child, or a last child, the realization begins to take on a new dimension."
Yet few parents I know are comfortable with the term "empty nest."
"A word signifying a void or a vacuum is an unfair way to describe a time when life can be full of growth possibilities," note Laura Kastner and Jennifer Wyatt in The Launching Years: Strategies for Parenting from Senior Year to College Life (Three Rivers Press).
But even more important than finding a new catchphrase for "the empty nest" is shifting our focus to the fresh opportunities awaiting our kids. Our job, after all, is to help them learn how to leave us; to let them go.
It's also our job to get on with our own lives. Just as we hope our kids will thrive without our supervision, they need to believe we'll be just fine, too. When Nate was in college, he was relieved to discover that his dad and I were filling our free time with art projects and other hobbies we'd neglected in the trenches of parenthood.
In the long run, helicopter parenting doesn't do anyone any good.
So, even if your kids aren't leaving home this year, it's not too early to sign up for those ballet lessons you've postponed for ages. Or to rediscover the sport or the craft that kept you juiced up and inspired before your name was Mom. Pat yourself on the back for a job well done. A new season of parenting will unfold.  Happy Mothers Day! — Cindy La Ferle
–-Original collage (top illustration) by Cindy La Ferle. Bottom photo: Cindy and son Nate. —