Christmas waves a magic wand over this world, and behold, everything is softer and more beautiful."  ~Norman Vincent Peale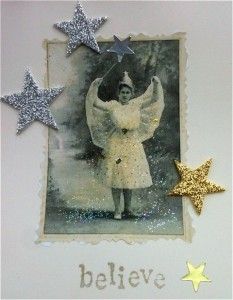 Give me any holiday, and I'll make a greeting card for it. No matter how crazy-busy life gets, I like to think of card-making as instant art therapy. It's a terrific way to unwind after a long day, and I can vouch for the fact that it's incredibly easy (and economical) to do. Here are a few tips to get you started.
Gather a batch of recycled greeting cards or magazine clippings that strike your fancy. Or, dig through your own family photo albums for funny vintage shots — and jot down a clever message or sentiment that works with them. (If the relatives in the photo are still breathing, you might want to ask their permission to immortalize them on a funny card. Otherwise, you're good to go.)
Next, make a list of craft supplies you'll need to assemble and complete your cards.
Michael's, the craft store, carries packages of blank cards with envelopes in all sizes. While you're at it, pick up a few bottles of glitter, glue sticks, stickers, and other trims that work with the theme you've chosen. Clear space at your kitchen table, then grab your scissors … and start playing! There's a certain charm in a crafty, handmade card — so don't feel you have to aim for glossy perfection. (That's what Hallmark is for.)
Michael's also carries a variety of stamps with greeting card messages for any holiday or season, or your can print your own sentiments. The card shown above is one of two designs I've been working on this season. I also purchased several packages of star confetti to sprinkle inside each card, to carry out the "Christmas magic" theme. –CL