The key to successful aging is to pay as little attention to it as possible."  ~Judith Regan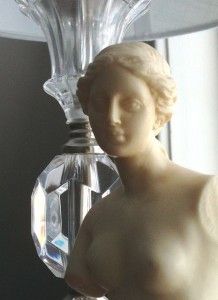 I get annoyed when the terms "anti-aging" and "age-defying" are used to market products to women who are barely out of high school.
Whether I'm thumbing through fashion/lifestyle magazines or surfing channels on TV, I'm bombarded with images of nubile celebrities touting the wonders of wrinkle creams, facial peels, and eye serums. And I rarely see photos of mature women representing my own middle-aged face or body when I browse through mail-order catalogs targeted to my own demographic.
So, I get the message: She who looks youngest wins.
Two years ago, I tried tackling this issue in one of my weekly columns on midlife issues. As a 50-something journalist, I vowed to join the campaign for honest aging. In my column, I promised to celebrate the beauty of graying temples and applaud the infectious charm of laugh lines. I also admitted that I plan to avoid cosmetic surgery (and that I'm terrified of Botox). I know the cliche is as exhausted as I am after a day of caring for my elderly mom, but I'm seriously trying to grow old gracefully.
"Women can look older and fabulous at the same time," I wrote in the column. And I wasn't suggesting that middle-aged women ought to give up on their looks. I even disclosed that my own medicine cabinet is an arsenal of anti-aging weapons. (Right now, there's a back-up tube of Retinol and an outrageously expensive eye cream that promises to perform miracles just short of raising the dead.)  But I added that we all need to be more realistic — and that we'd all be happier if we paid less attention to the beauty-and-fashion police.
Days after the column was published, I received many grateful notes and comments from women even younger than I am. But soon enough, my editor — a sharp woman in her twenties — e-mailed a disturbing note of caution.
"Were getting complaints from plastic surgeons," the editor warned me. "With so many plastic surgeons and cosmetic salons as our advertisers, its really important that we cater to them.  So I am asking you to stop writing against face lifts and other cosmetic procedures. You can keep writing about the beauty of midlife, but be sure to say that cosmetic surgery is a good option."
It was the first time in my 25 years as a columnist that Id been told to alter or censor my editorial opinions.  I was miffed – but not totally surprised. Though Id learned years ago in journalism school that its unethical for editors to allow advertisers to drive their editorial content, experience has taught me that many publications – especially womens magazines – are highly influenced by advertising dollars. The editor who scolded me was simply trying to keep her job.
At 56, I hope to keep working and writing as long as there are markets open to me.  Id like to use my years of experience to enhance the quality of life for other women my age. Yet I know it won't be easy to write honestly about aging in a culture that worships at the temple of youth. Meanwhile, it's worth remembering that the "advice" you read in most beauty and fashion magazines is barely skin deep, if not totally inspired or supported by advertising dollars. — Cindy La Ferle
–A different version of this column originally appeared in the Oakland Press. Photos by Cindy La Ferle–