The only people with whom you should try to get even are those who have helped you.  ~John E. Southard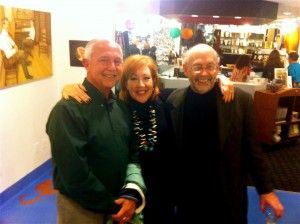 Everyone who's ever launched a career — especially a career in a competitive field — knows that you need at least one supportive boss who believes in your goals and dreams. Which is why I'm so grateful to have worked for several terrific editors who helped shape my writing life.
Two in particular are Mike Beeson (left in the photo) and John Schultz, both former editors at Royal Oak's Daily Tribune.  How lucky I was to find them at a newspaper office in my own hometown. In 1985, John was the first to give me a regular column, a weekly small business feature that introduced me to countless shops, galleries, and restaurants in our community. While I wrote many stories for the Trib in those days, from theater reviews to news items, my weekly business column taught me how to meet tight deadlines while scouting new story ideas.
When I first started writing for Mike, he had just replaced entertainment editor Ray Serafin. Later on, Mike took over the paper's lifestyles section and made my biggest dream a reality: He offered me a coveted column space in the Sunday paper — and told me I could write about any family topic that struck my interest. In 1998, my weekly "Life Lines" column won a first place award for local columns in the Michigan Press Association's Better Newspaper Contest. Several of those columns are reprinted in Writing Home, my collection of essays and columns.
All of this came tumbling back when my husband snapped the photo, above, at the opening of his first one-man show at the Lido Gallery in Birmingham last night (Oct. 26).
John, who co-authored a book on the history of Royal Oak last year, currently works as a copy editor at Hour Media. Newly retired from the Trib, Mike now has time to travel and visit his new grandchild.
Chatting about the "old days" with John and Mike, I also felt a rush of nostalgia for all the times I had to drive downtown to deliver my finished articles to the Trib's editorial offices. Back then — before we relied on the Internet — editors and writers discussed assignments on the phone, face-to-face at the office, or over a burger at lunch. It wasn't nearly as quick or convenient as sending a story via email, of course. But in the process, we forged friendships that have endured despite several career moves and changes. I wouldn't trade those days — and everything I learned — for anything. — CL