Every spring is the only spring — a perpetual astonishment." — Ellis Peters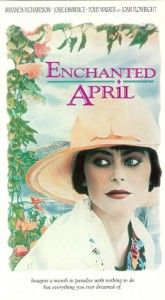 Who doesn't love an early spring? This year, at least in Michigan, April has been unseasonably kind and beautiful. Our daffs and tulips are blooming, and best of all, moods are lifting as we spend more time outdoors.
But I can't let the month slip away without recommending a favorite indoor ritual. Even if you've already seen it, go rent Enchanted April.  I've enjoyed this little gem of a film so much over the years that I've shared it with my women's group, and even organized a "girlfriends' movie night" around it.
Adapted from Elizabeth von Arnim's 1922 novel of the same title, the award-winning film revolves around four British women — unlikely friends, all — who meet in Italy to spend an April holiday in a secluded castle-like villa with a lush garden and a view of the Portofino coast. Each character has a back story, of course, and as the film progresses, we discover how retreating to a special place can help us rekindle relationships, heal old wounds, and see things anew. And in this gorgeous film, the location competes with the characters for attention.
On an anniversary trip five years ago, my husband and I were lucky enough to tour Castello Brown, the small castle and surrounding property where Enchanted April was filmed. It was every bit as magical as the film itself, and I enjoyed exploring the gardens while recalling my favorite scenes.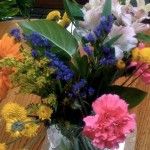 Arranging a bouquet of flowers I'd purchased from the grocery this week, I remembered a key moment from the beginning of the film.
It's the scene in which the emotionally bankrupt Mellersh Wilkins (played by Alfred Molina) scolds his depressed wife Lottie (Josie Lawrence) for buying a bouquet of fresh flowers for the dining table, declaring it "an extravagance of the most blatant kind." At that moment, Lottie starts to realize it's time to claim a little joy for herself. As the story unfolds, we're all reminded that a few indulgences are essential to our well-being and can be downright transforming. — Cindy La Ferle