The art of living lies less in eliminating our troubles than in growing with them.  ~Bernard M. Baruch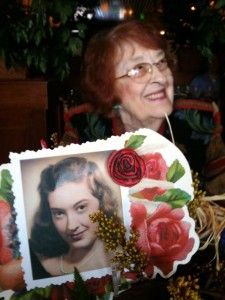 I won the book this summer, but it sat unread for weeks, buried on my nightstand under a tall stack of novels and review copies. Joy No Matter What: Make Three Simple Choices to Access Your Inner Joy, by Carolyn Hobbs, sounded like a delightful read, but I couldn't muster the enthusiasm to crack it open.
Overwhelmed with concerns about my widowed mother's health, I've been feeling more anxious than joyful lately.
Mom lives alone in a condo, about 10 minutes from my house. Up until this fall I've felt reasonably confident that she was capable of living independently. And she was, for quite a while. But my mother's early stage dementia — which was officially diagnosed by a neurologist over a year ago — has moved to the middle stage, and her doctors have put me on alert. Right now, I'm filling out the paperwork for an in-depth geriatric evaluation that will, hopefully, lead to the help and advice I need to make the right decisions for my mother. (Including when to take away her car keys.)
Meanwhile, as her sole caregiver, I worry a lot.  And as much as I hate to admit it, sometimes I'm swimming against an undercurrent of resentment.
So I happened to thumb through my copy of Joy No Matter What last week, and discovered that "resentment" has its own chapter in the book. And what I read was exactly what I needed to consider.
"Resentment steals joy like nothing else," writes author Carolyn Hobbs. "It cheats us out of wholesome loving contact with those we love. It destroys perfectly good relationships." As Hobbs points out, it can also negatively impact our health. Thankfully, she offers some solutions, and one in particular has really helped.
"Writing your resentments down on a piece of paper is a great way to acknowledge them to yourself," Hobbs advises.  "Don't hold back. The best way to make resentments conscious is to totally indulge them."
Despite the fact that I've been writing personal stories for years, the very thought of recording how I feel about Mom's dementia — even privately — seemed disloyal and cruel. So I had to force myself to sit down and make a list of all the things I "resented" about her condition and how it has marred our once-happy relationship.
For starters, I admitted that my mother's dementia has hijacked my peace of mind as well as some of the freedoms of my newly emptied nest. I listed the frightening, paranoid phone calls I get from her several times a week, throwing my normal routine off course. I wrote about how my mother expresses little interest in my life — and how most of our conversations revolve around her health and anxieties. I even tallied all the hours I've spent in doctors offices for her countless medical and dental appointments. I wrote about how I resented dementia for blurring the quality of Mom's elder years, and for building a wall between her and many of her oldest and dearest friends.
Lastly, I listed the guilt I battle daily for harboring all this resentment and worry.
Of course, I will never share this list with my mother. But facing up to my darker emotions has helped me find some relief. Examining the issues that trigger my anger and sadness, I can begin to move ahead and ultimately find the patience required of all care-givers. Most of all, Hobbs' technique has led me to understand that, deep down, I'm grieving the loss of my real mom. I'm grieving the loss of the mutually supportive relationship we had before the dark brush of dementia rendered her childlike and needy.
Once in a while, I get a few glimpses of my old mom — and I savor them while I can.
Two weeks ago, for instance, Mom phoned to ask about a doctor's appointment on her calendar. During the conversation, I mentioned that Doug and I were celebrating our 30th wedding anniversary that evening. My mother, who always remembered family birthdays and anniversaries, had totally forgotten this one. "Oh my, I had no idea you've been married 30 years!" she shouted into the phone, struggling to process the oversight. But an hour later, she drove over to our house with the most beautiful flower arrangement I've seen — a wild assemblage of deep-violet carnations, burgundy roses, and cabbage flowers. The card read, "Happy Anniversary, Love Always, Mom."
Every day, I remind myself that the overriding emotion I'm really feeling for my mother is love, not resentment. Despite the fact that she can't recall things I've told her the day before, she never forgets that I'm her daughter, and she knows I'll do my best to get her through this, no matter what. — Cindy La Ferle
— Photo above: My mother on her 80th birthday in September this year. The photo in the foreground is my mother's high school graduation portrait —