The greatest gift of the garden is the restoration of the five senses."  ~Hanna Rion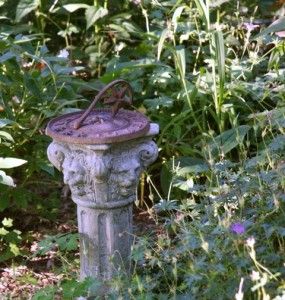 Spring reminds us that we humans were not designed to hunker down in front of a computer monitor for days on end. At some point, we must wake up and engage all of our senses. We need to feel the sun on our backs and to inhale the scents of plants and rich earth.
My own garden has always been a place of healing and renewal. I'm deeply nourished by kneeling in the grass, working the soil, and tending new growth. By the the end of April, I can hardly wait to dig in — and my heart pumps peanut butter every time I drive past a local garden center or nursery. It's all I can do to refrain from planting too early.
I'm really looking forward to expanding the herb garden outside our back door when the real danger of frost is past. In the meantime, I'm soaking up these gorgeous lines of Amy Gerstler's, below. — CL
In Perpetual Spring
by Amy Gerstler
Gardens are also good places
to sulk. You pass beds of
spiky voodoo lilies
and trip over the roots
of a sweet gum tree,
in search of medieval
plants whose leaves,
when they drop off
turn into birds
if they fall on land,
and colored carp if they
plop into water.
Suddenly the archetypal
human desire for peace
with every other species
wells up in you. The lion
and the lamb cuddling up.
The snake and the snail, kissing.
Even the prick of the thistle,
queen of the weeds, revives
your secret belief
in perpetual spring,
your faith that for every hurt
there is a leaf to cure it.
–Reprinted from Bitter Angel, by Amy Gerstler; New York: North Point Press; 1990.–
— Garden photo by Cindy La Ferle —
__________________________________________________

BLOG TOUR ALERT:

If you missed a chance to win a

free copy

of my book, Writing Home, on other tour stops, here's another.

Click here

to read Angie Muresan's review and to participate in her  giveaway this week. I've always enjoyed Angie's view on life — and I think you will too.

_____________________