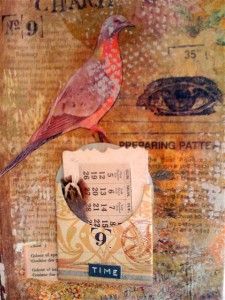 I love how a poem, an essay, or a novel can shimmer with new meaning when you reread it years later — when the defining moments of your own life realign with the story. It's sort of like running into an old friend who looks better as he ages.
I first read Billy Collins' "Forgetfulness" in Questions About Angels more than 10 years ago. While I found it amusing, it didn't really hit me where I lived at the time.
This week, while thumbing through Collins' anthology, Sailing Alone Around the Room, the poem found me again.
And this time my heart jumped as I read the line, "one by one, the memories you used to harbor decided to retire to the southern hemisphere of the brain…." Of course, I thought immediately of my mother's current struggle with dementia; her inability to access key dates and events, including the year her mother died; the city where she was born; the time she was hit by a car in a parking lot.
My middle-aged friends and I often chuckle over the fact that we sometimes walk into a room and forget what we're looking for. And we get a little nervous when we can't recall the name of a film classic we've enjoyed for years. We laugh, yet we're all secretly haunted by the unnerving possibility that we could misplace our most important memories and never retrieve them. Likewise, this poem is laced with Collins' trademark wit, but ends on a wistful note. — CL
Forgetfulness
By Billy Collins
The name of the author is the first to go
followed obediently by the title, the plot,
the heartbreaking conclusion, the entire novel
which suddenly becomes one you have never read,
never even heard of,
as if, one by one, the memories you used to harbor
decided to retire to the southern hemisphere of the brain,
to a little fishing village where there are no phones.
Long ago you kissed the names of the nine Muses goodbye
and watched the quadratic equation pack its bag,
and even now as you memorize the order of the planets,
something else is slipping away, a state flower perhaps,
the address of an uncle, the capital of Paraguay.
Whatever it is you are struggling to remember,
it is not poised on the tip of your tongue,
not even lurking in some obscure corner of your spleen.
It has floated away down a dark mythological river
whose name begins with an L as far as you can recall,
well on your own way to oblivion where you will join those
who have even forgotten how to swim and how to ride a bicycle.
No wonder you rise in the middle of the night
to look up the date of a famous battle in a book on war.
No wonder the moon in the window seems to have drifted
out of a love poem that you used to know by heart.
— Top Photo: Collage detail from an altered book by Cindy La Ferle. Please click on the image for a full view. —