A world without tomatoes is like a string quartet without violins" — Laurie Colwin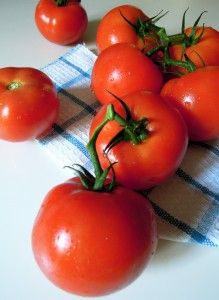 Though I rarely write much about food, I've always felt a sweet and satisfying connection between writing and gardening.
Whenever I'm blocked, for instance, I close to the door to my home office and head outdoors to my garden. The sight of my prolific herb patch alone is enough to remind me that all's right with the world — even if the paragraphs I'm working on are a weedy, tangled mess. Grabbing a cup of coffee, then checking on the progress of my plants, is now part of my morning routine.
Admittedly, this hasn't been a banner year for my tomatoes so far. As a rule, my plants are usually producing more fruit by this time — and more blossoms. I'm hoping things will turn around by August, when summer's final blast of heat typically ripens the Big Boys to succulent perfection. By then, my kitchen counter will (I hope) boast an embarrassment of riches.
Looking for culinary inspiration, I'm already poring over my favorite cookbooks for recipes that take full advantage of the season's bounty. My aim is instant gratification. Thankfully, the humble tomato always cooperates when I want to keep things simple. I can make a robust gazpacho in minutes by chopping two ripe tomatoes and whirling them in my blender with a can of tomato juice, a chopped cucumber, a few scallions, a clove of fresh garlic, and a dash or two of olive oil and cumin powder.
I also admire the tomato for having so few prejudices. It's willing to co-mingle in a wide variety of ethnic dishes, embracing the sweet and the sour with equal abandon. When it's really fresh, I love it in Middle Eastern cuisine. Last year, for example, my favorite summer meal was the classic Lebanese salad. You can make your own by dicing a large tomato (discard juice and seeds), and tossing it in a bowl with diced red onions (to taste) and a cup of diced cucumber. Toss the mix with a drizzle of olive oil, fresh lemon juice, salt, pepper, and a handful of chopped fresh parsley.
I can't think of summer tomatoes without remembering my paternal grandfather's gourmet cooking, which often included the farm-fresh tomatoes grown near his home in Indianapolis. Inspired by the foods he enjoyed while visiting Mexico, Grandpa Wayne ignited nearly everything he cooked with generous splashes of Tabasco sauce. After researching every vintage cookbook I've collected, I still can't find a single recipe that competes with the one he concocted for tongue-tingling fried tomatoes. But here's my own adaptation:
Gather a few firm beefsteak tomatoes. Slice them thickly, then coat thoroughly with whole wheat flour mixed with a little cornmeal. Heat two tablespoons of olive oil in a large skillet, then add the floured tomato slices when the skillet is very hot. Season each slice with splashes of Worcestershire sauce, Tabasco sauce, and garlic salt to taste, taking care to douse both sides with the seasonings as you fry. Brown the tomatoes as long as you can without burning them, then serve as a side dish or as a main course for a simple vegetarian meal.
Grandpa Wayne served his famous fried tomatoes for €œcompany breakfasts€ — southern Indiana-style — along with slow-cooked sausage (spicy, of course), scrambled eggs, and a bottomless pitcher of Bloody Marys. He lived longer than my other grandparents, and probably would have attributed his longevity to the spicy foods he consumed. I still remember waiting what seemed like an eternity for Grandpa to get those huge breakfasts on the table. Things moved more slowly back then, and I've only just begun to appreciate the benefits of such a leisurely tempo. Just as I've grown to appreciate the best fried tomato recipe that ever crossed the Indiana-Michigan border. — Cindy La Ferle