Love recognizes no barriers. It jumps hurdles, leaps fences, penetrates walls to arrive at its destination full of hope." — Maya Angelou
Yesterday, while labeling my mother's clothing and underwear, I had a surreal moment in which I felt as if I were moving another kid to college. In reality, we're getting ready to transfer Mom to an assisted living residence, where she'll soon have her own studio apartment.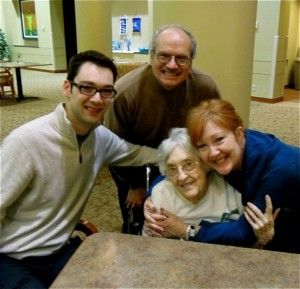 Doug and I spent the past week moving pieces of Mom's furniture (her apartment comes with some basics) along with decorative accessories, photos, clothing, TV, microwave, and toiletries. We also shopped for a bedspread and items for her kitchenette.
The new apartment looks traditional and beautiful — the style my mother is accustomed to — yet we know, deep down, that all the elegant things in the world won't fool my mother into thinking this other place is superior to the condo she's grown to love so much.
When Doug and I aren't consumed by the moving process, I'm usually on the phone with a social worker or a physical therapist at the nursing center where my mother is undergoing rehab now. The social worker is concerned about my mother's delusional behavior this week. Mom doesn't believe there's anything wrong with her health — nor does she remember last month's visit to the ER at Beaumont Hospital, which ultimately led to all of this. Sounding like Dorothy on a broken record, she just keeps asking to go home. To her real home.
While I know this move is inevitable and right, I still feel twinges of guilt for uprooting my mother from everything that matters to her.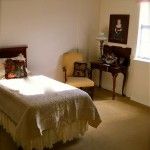 And I don't know how I'd survive the stress without Doug, the world's absolute-best husband. It breaks my heart a little, too, when I remember that Doug plowed through a similar scenario less than two years ago when his late father (who had Alzheimer's) had to be moved several times until he and his mother found the right nursing home. (Ain't midlife grand?) Doug's experience with lease agreements and medical/legal paperwork alone has been invaluable, not to mention his willingness to sit with me and write my mother's name on dishtowels and socks with a permanent marker.
The big move from the nursing center to assisted living is scheduled for Sunday. What a long and winding road it's been. While I'll be relieved to get my mother in a safe place, finally, I know there's a boatload of emotional work ahead of me. Mom will need time and patience to adjust. And so will I. –– Cindy La Ferle
— Top: Our family with my mom on Christmas night, at Woodward Hills nursing center cafeteria. My mother has been recovering at Woodward Hills following a week at Beaumont Hospital last month. Bottom photo: A detail from Mom's new apartment at a local assisted living residence. —