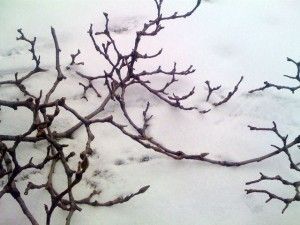 Throwback Thursday …. This piece was first published in Literary Mama in 2005, my first year as an empty nester.
Spring is just a few weeks away, yet the barren landscape outside my office window looks more like the moon than southeast Michigan. Mounds of brittle, gray snow flank the curb, and the sidewalk shimmers with black ice. Only diehard neighbors stick to their evening jogging routines. Spring is just a mirage.
On the liturgical calendar, it is the Lenten season. According to T.S. Eliots poem, "Ash Wednesday," it is the time between "dying and birth." It is not the ideal time to face a changing identity, pending menopause, a stalled career, or a recently emptied nest. It is the time of year when, despite my better judgment, my cheerful disposition is easily frayed.
Lately my writing life seems like a long wait in line at the post office. And its not that Im seriously blocked. Just lonely.
For the past five months, my only child has been happily settled in his cramped dormitory room at a university in another state. Im still adjusting to the hollow echo of his oddly clean and empty bedroom, looking for remnants of my old self — my mothering self — in the bits and pieces he left behind. The family calendar in our kitchen has some vacant spaces, too, and is no longer buried under neon-color sticky notes announcing band concerts, Quiz Bowl meets, school conferences, and carpool schedules. Ive become what our high school mothers club refers to as one of the "Alumni Moms."
Empty nesting is harder on mothers who work at home — mothers who stare into a computer monitor until the garden thaws in mid-April and children migrate home from college. This age-old ritual, cavalierly termed "letting go" by most parenting experts, is the final frontier for those of us who've made child rearing a major focus of our adult lives.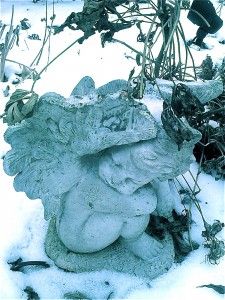 Heeding the advice of a friend who happens to be a local pastor, Ive learned that community service is the best antidote for what we Midwesterners describe as acute cabin fever.
"You need to leave your comfort zone. Use your gifts in the community," urged the pastor. In other words, do unto others and get over yourself. Which is how I ended up working a busy afternoon shift at a warming shelter for the homeless.
Answering a need during the cruel winter months, a small church in my neighborhood opens its kitchen and dining room to approximately 50 homeless men and women at a time. Job counselors and social workers volunteer their expertise to those who struggle with substance abuse or unemployment (or both). Parishioners are recruited to serve meals, scrub sticky tables, pour pots of black coffee, and perform simple clerical tasks for the under-staffed warming center.
The visiting homeless are required to wear nametags. Before starting my first shift, I was advised to call each person by name and to refer to the group as "guests."
I have worked with the homeless in other circumstances. But I am always a bit shy at first. These people – the guests — have formed their own community, complete with its own set of rules and rhythms. Many of them know each other after weeks or months of sharing sandwiches and unrolling sleeping bags in the same church basements and overnight shelters. I am an outsider in their midst; a white journalist from planet Suburbia. I feel inept and alien when confronted by so much horrific need, yet I have come to serve, and in a small way, to mother.
My first assignment was to ladle out steaming heaps of boiled ham and potatoes to each hungry guest who had lined up at the serving table.
That day, there were close to fifty, mostly men. Most were eager to talk and visibly grateful for a free meal. I was taken aback, initially, at the way each guest wanted me to spoon his portion onto a plate and hand it to him. Not a single person would take the plates I had already filled and set on the table in the interest of moving the line more quickly.
Nearby, in a cluttered corner that served as makeshift office space for the center, another volunteer was keeping company with a guest whose nametag read "Marian." Aloof and unkempt, Marian flashed angry, intelligent brown eyes and wore a burgundy wool cap over her brow. Playing a game of Scrabble on the office computer, she didnt mix with the other guests, nor did she want to converse with my fellow volunteer. Her body language wasnt hard to translate: Keep out. Dont touch. My heart is not open for business or charity. She didnt look up when we asked if she wanted a hot lunch or dessert. Fixed on the computer screen, she mumbled something about a candy bar she had eaten earlier, and declined our offer.
One by one, all the guests except Marian were served, and I was told by the center organizer that it was time to clear the tables for dessert. I began my assignment quickly, grateful once again for the focus required of even the simplest domestic routines.
Then, suddenly, a voice.
"Excuse me, excuse me?"
I barely heard her over the metallic clatter of roasting pans and serving utensils. It was Marian, the Scrabble player. Without turning from the screen, Marian repeated her question, more audibly this time, to anyone within earshot: "How do you spell fragile?"
Slowly, carefully, my fellow volunteer voiced the letters aloud and repeated them: F-R-A-G-I-L-E.
Fragile.
Returning to the kitchen with an armload of dishes, I reconsidered the word and what it meant. I recalled how carelessly Id been using the adjective to define or describe the strange terrain of my new empty nest. And how, in a single instant, its meaning, its very etymology, had changed forever. — Cindy La Ferle, March 2005
This essay was originally published in Literary Mama, and is included in the print anthology, Literary Mama: Reading for the Maternally Inclined (copyright 2006; Seal Press).