We have too little time to waste it in relationships that are not equal and mutually rewarding. Exchanging energy nourishes our souls." 
— Sue Patton Theole in The Woman's Book of Spirit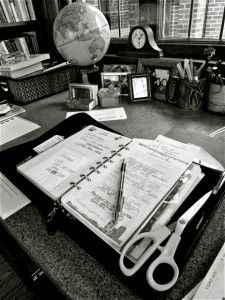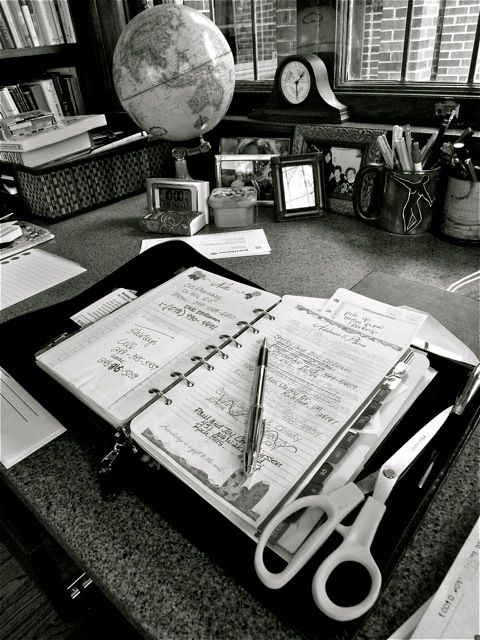 In addition to getting my mother adjusted to assisted living — still a challenge — I'm devoting the month of January to organizing clutter. For starters, I bought a portable day planner for keeping track of my mother's insurance info and medical appointments, plus dozens of other notes to myself. 
The new planner now combines my personal data with my mother's, all in one handy notebook that fits in my purse. While transferring names and numbers to the new pages, I remembered the following essay from my book, Writing Home. It was first published in a local column when I was a younger mom with a school-age child.
Address Book 
August 15, 1999; Reprinted from Writing Home.

Some things will always defy our control. Keeping a kid in the same shoe size for more than six months is one example; maintaining a neat, fully updated address book from one year to the next is another. Im talking about the old-fashioned (not electronic) address books that keep us in social contact — the dog-eared pages we've crammed with birthday reminders, letters to answer, and cards announcing new addresses for relocated loved ones.
My own address book is a bit confusing, even to my husband, but it does have a system. For example, one page might be scribbled with little arrows and codes referencing another section of the book ("Look under H/Hill"). This usually means that someone has remarried and changed her name, or that a cousin has left for college or moved to his own apartment.
No matter how badly it's organized, my address book is irreplaceable, especially during emergencies. This hit me seven years ago after my father died. One of the first things my mother and I did was comb through our address books to locate former coworkers, distant cousins, and old friends who needed to be notified of Dad's passing. Each name, each address, was a chapter in my father's history.
Your own address book is probably a chronicle of your ever-evolving relationships — an autobiography in progress. And since relationships are inherently messy, it stands to reason that your address book is messy too. Flipping through mine recently, I made the following observations:
— Reflecting the national average, many of my friends are divorced or working on second marriages.
— Divorce often forces us to choose between friends who used to be a couple.
— Having kids makes a huge difference in our social circle, not to mention the restaurants we frequent.
— The more people we know and love, the harder it is to send birthday cards on time.
— As we age, the line between friends and family starts to blur.
Catching up on the phone last week, Margaret, my former college roommate, and I decided that our midlife definition of "old friends" covers people we've known and loved unconditionally for at least half of our lives. They're the first ones we call when the biopsy results come back or our kids win the big tournament at school.
Thats not to say I undervalue the various gifts my newer friends bring to the table. Some are skilled counselors or tireless cheerleaders; others are better at listening than advice-giving. One brings comic relief to every party, while another is the perfect companion for a silent retreat at a monastery. All have expanded my outlook and enriched my life, and I look forward to our future together.
But Ive also found that while most of us change or evolve over time, our friendships don't always change or evolve with us. One friend and I drifted so far apart in our interests that we might just as well have moved to opposite sides of the planet. Another disappeared without a trace after a heartrending divorce.
While every relationship has its low points, the stronger ones survive conflict as well as change of address. But I've learned it's never healthy to cling to an alliance that has turned draining, one-sided, negligent, or destructive. As Emerson said, friendship should offer mutual "aid and comfort" through all of life's passages. I think it should be fun, too.
A few people with whom I've lost touch or parted company are still listed in my address book. At one time, those relationships filled crucial gaps in my life and helped shape the person I am today. I still feel twinges of regret whenever I pause at the pages showing their names and numbers. And because there are a few good memories also attached to those names, I can't quite bring myself to erase them. — Cindy La Ferle
Click here to read another column I wrote last spring on the benefits of maintaining healthy friendships.
— Writing Home can be purchased at Amazon.com and is available at the Yellow Door Art Market in downtown Berkley, MI. —