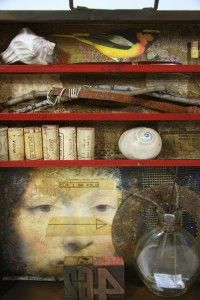 Though I've been writing professionally for nearly 30 years, there are times when I find it easier to express myself through the visual arts. Especially when I'm struggling to come to terms with a difficult or painful topic.
One of my mixed-media constructions, "What We Remember," is a case in point.
I began working on this piece two years ago, not long after my mother was officially diagnosed with early stage dementia. My father-in-law died of Alzheimer's last June, so the theme of "remembering" has special significance to me — aside from the fact that memoir has always been my favorite genre in creative writing.
"What We Remember" was a toy chemistry kit in its previous life. Doug and I discovered it in a Good Will thrift shop in St. Joseph. Aged and loaded with character, the kit was irresistible, even though it was missing its containers and chemicals. We knew immediately that one of us would use it for an art project.
"It's surprising how much memory is built around things unnoticed at the time." — Barbara Kingsolver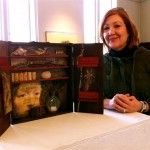 Over a period of several weeks, I collaged the interior of the box with vintage dress patterns, old sheet music, and photo reproductions. I added found objects that play loosely on the theme of memories and souvenirs — shells gathered from a beach; twigs and feathers from hikes in the woods.
The small glass bottle on the bottom shelf contains a tiny printed copy of the dictionary definition of "memoir," while the wine corks on the middle shelf suggest good times that may or may not be remembered — depending, of course, on how much wine was consumed. The bird on the top shelf perches above a vintage fountain pen that could have been used for recording entries in a diary.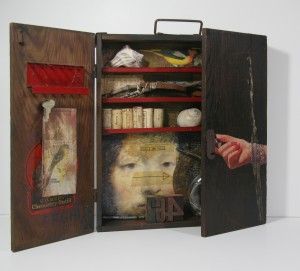 I was pleased to learn that "What We Remember" was accepted for the Michigan Annual XXXVII Art Competition. Detroit art critic Vince Carducci served as juror. The exhibition runs from January 28 through February 25 at the Anton Art Center in Mount Clemens, and is free to the public. — CL
— For a larger view of the artwork, please click on each photo —