Sometimes I suggest family recipes as points of entry for writing a memoir. Does your Italian grandmother's pasta sauce stir up memories of holiday gatherings? Do you recall your kid brother's grin every time you bake the oatmeal cookies he loved? Using this approach, some writers end up compiling cookbooks laced with treasured family stories and traditions.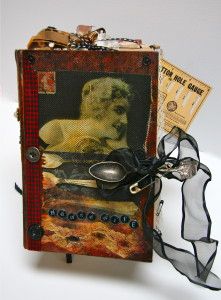 Anyone can turn a memoir into a work of art by combining keepsakes and recipes. For inspiration on how to start this type of project (shown at left), you might want to visit my new art blog. Please click here to learn more.
Speaking of memoirs, I'll be teaching an evening class on memoir writing at the Royal Oak Public Library on March 24, and participating as a panelist in a discussion on blogging on March 31. Complete details on the ROPL's Spring Writing Series (including how to register for the classes) are included in this feature on Royal Oak Patch.
Photo: "House Wife" (an altered book) by Cindy La Ferle