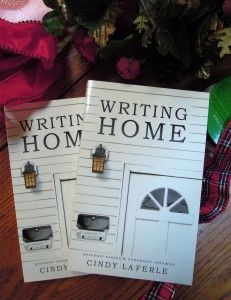 Proceeds from the holiday sales of my book, Writing Home, are donated annually to organizations serving the homeless.  Since the book's first printing in 2005, I've had the honor of donating several hundred dollars from book sales and speaker fees to both the Welcome Inn and South Oakland Shelter, here in metro Detroit.
Christmas is the season for kindling the fire of hospitality in the hall, the genial flame of charity in the heart."  ~Washington Irving
I do this every year because "home" always tops my gratitude list. I'm blessed to live in a wonderful old house in the middle of a neighborhood and community I love. And that, in a nutshell, is what the stories in Writing Home are all about. Yet here in this same community of established neighborhoods and solid vintage homes, there's a homeless population that's been hit twice as hard by Detroit's long-suffering economy. Like others in my neighborhood, I want to help.
Now in its 2nd printing and available on Kindle, copies of Writing Home can be purchased on Amazon.com for less than $20 and mailed in time for holiday giving. And you can feel good about the fact that $5 of your holiday purchase will benefit someone in need (not the author or publisher). If you live in Oakland County, look for the book at the Yellow Door Art Market in Berkley or at the Royal Oak Historical Museum.
Thank you for your support this year. From my home to yours, I wish you a heart filled with gratitude for all that you have.— Cindy La Ferle