"Art enables us to find ourselves and lose ourselves at the same time." — Thomas Merton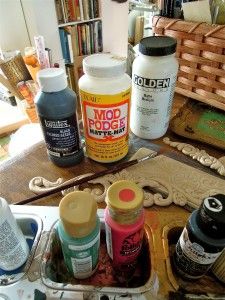 The first week of the new year always invites introspection, making it the perfect time to start the mixed-media self-portrait I've been putting off for years.
I enjoyed it so much that I hope you'll be inspired to try a self-portrait too. I can promise this much: Youll unearth buried treasure in your own heart — if not your junk drawers — as you cut, paste, paint, and dabble along. Consider it art therapy, if you must, or a chance to re-imagine your goals and dreams.
So what possessed me to give this project a whirl?
Throughout my writing career, Ive specialized in memoir, telling my "story" in bits and pieces through newspaper columns, magazine essays, and blog posts. And while the mixed-media artwork I do is another form of self-expression, Ive never attempted to do anything quite as personal as a self-portrait. My assemblages, for instance, are typically focused on nature, my ancestors, spiritual themes, or even favorite authors. And I've never included a photo of myself in my work.
Inspired by the cover story of the November/December issue of Somerset Studio last year — featuring an awesome mixed-media self-portrait by artist Anna Dabrowska-Pecocka — I fetched a fresh 16″ x 20″ canvas and got to work on my "Memoir on Canvas" project.
Youll unearth buried treasure in your own heart — if not your junk drawers — as you cut, paste, paint, and dabble along.
In the process, I discovered that creating a self-portrait has a great deal in common with writing a memoir. Collage is another form of storytelling, of course, but it relies more on intuition than literal memories. Like life itself, a mixed-media piece is assembled one layer at a time. I prefer clean, uncluttered paragraphs in my essays, but tend to go for a richer, more complex "vocabulary" in my artwork. Best of all, artwork wakes up the right side of my brain and urges me to put my inner editor and critic to sleep.
Over the next few days, Ill be posting a mini tutorial on this project, showing you photos of my portrait in its various stages. What you're viewing here is only the start. Please remember to click on the photographs for a much larger view.
Step 1: An intuitive background layer
This step is a chance to play freely. Like a child with a new box of crayons, you grab all materials that immediately appeal to you. Never over-think what you "should" use for your base layer. The possibilities are limitless, although it's important to ensure that you can adhere everything securely to the canvas. Explore the variety of strong adhesives at your local craft store.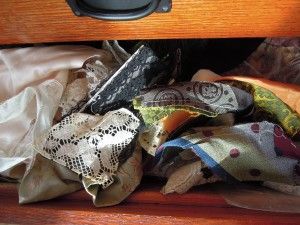 Tissue, wallpaper samples, newspaper photos and clippings, fabric or magazine scraps … I chose intuitively, for the most part, although I did make a point of including letters of the alphabet to honor my love of the written word. At the same time, I deliberately included a print of a Renaissance painting of an auburn-haired child, to represent my much-younger self and to serve as a nod to a period of history that always appealed to me — a period of creative discovery in art and science.
For this step, I also added scraps of fabric as well as vintage lace Ive collected from thrift stores. These choices reflect my interest in textiles and fashion, and will do their part to add some interesting texture when paint is added later. After using Golden Gel Medium and Mod Podge (matte finish) to adhere my base layer to the canvas, I put the project aside for a day to dry thoroughly.
Though I hadnt even added my own photograph to the center of the piece yet, I was tempted to leave the background layer "as is" because I liked its composition. But this first layer is merely the rough outline (or draft) for my "story" – and, as you'll see over the next couple of days, it still needs a narrative.
Tomorrow's post: Adding more texture, color, and a photograph of me.