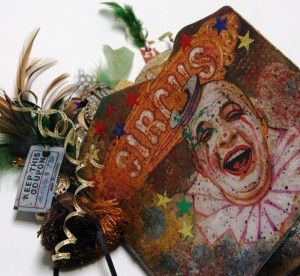 "Damn everything but the circus!" — e.e. cummings
March really did come in like a lion. For starters, daily doses of economic bad news are dumping more black paint on our national angst and depression. On a personal level, my widowed mother has been wrestling with worrisome health issues all week. So I've been spending a lot more time in medical waiting rooms than I'd like.
Following the advice I usually give my writing students, I try to relieve stress and worries by working on creative projects. I type, paint, scribble, collage, or print my way out of whatever's gnawing at my peace of mind. To cheer myself this week, I completed a new altered art project.
Inspired by an e.e. cummings poem, my new altered board book (featured in the photo above) pays tribute to circus nostalgia. Just thinking about the circus makes me smile. To create the piece, I collaged an old children's board book with circus ephemera, vintage photos, tissue paper, stamps, glitter, and metallic paints. Then I embellished it with cheerful, fun stuff — feathers, sequins, carnival tickets, broken costume jewelry, and shiny foil stars (like the ones our teachers used to stick on our spelling tests). Here's the poem that inspired it:
Damn everything but the circus!
…damn everything that is grim, dull,
motionless, unrisking, inward turning,
damn everything that won't get into the
circle, that won't enjoy, that won't throw
its heart into the tension, surprise, fear
and delight of the circus, the round
world, the full existence …
–e.e. cummings
To view an album of my altered art pieces on Facebook, click here.