Move out of your comfort zone. You can only grow if you are willing to feel awkward or scared or uncomfortable when you try something new." — Brian Tracy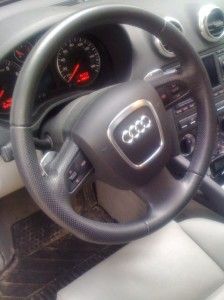 Working as a film extra since last fall, I've rarely had to drive beyond metro Detroit for a booking. Which is a good thing, since my sense of direction is pitiful — especially if I'm trying to navigate unfamiliar expressways.
Luckily, my husband Doug has worked in many of the same film gigs. He drives while I squint to read the directions on a Google map.
But two weeks ago, one of our casting agents phoned on short notice to ask if we'd be willing to take a five-day job in Grand Rapids, a two-and-a-half-hour drive from suburban Detroit. And there was another catch: The job required both of our cars for various scenes, so we would have to drive separately.  We'd also have to book a hotel in downtown Grand Rapids, since we'd be working at least 12 hours daily on location.
Doug was all set to pack up and hit the road. "We could think of it as a working vacation," he said hopefully, adding that we hadn't taken a real break this summer.
Regardless, I could feel my anxiety slamming on the brakes. Working out of town for five days would present some unique challenges — the least of which would be finding convenient laundry facilities for our film wardrobes. My elderly mother's "early stage" dementia had moved to the middle stage this summer, leaving me vaguely uneasy about leaving town. (I'm not as free as I'd hoped to be at this stage of midlife.)
And what would I do if Doug and I got separated by a caravan of trucks barreling down the expressway? What if, en route to Grand Rapids, my tire blew and my cell phone died? As Doug likes to point out, I can spend hours imagining all kinds of ridiculous "what-if" scenarios.
Stretching lessons
There's a wonderful quote by Les Brown, one of my favorite motivational speakers: "If you put yourself in a position where you have to stretch outside your comfort zone, then you are forced to expand your consciousness."
Clearly, I've never been much good at stretching — or tiptoeing — beyond my comfort zone. But wasn't that one of the reasons why I'd signed on to work as a film extra last year?  Feeling cooped up in my newly emptied nest, I had hoped to get out there and meet some new people. I wanted to experience a new creative medium; to learn more about filmmaking. And hadn't I hoped to be challenged just a little?
So I called the casting agent back and said yes to the booking.
Before I go on, I need to explain that I'm not at liberty to discuss many details about the films I've worked in before they're  released. Since the magic of movies involves an element of surprise, everyone who works on a production is warned against sharing plot details. Taking photos on set is strictly prohibited, too, and I've heard several accounts of crew and background extras who've been fired for ignoring that rule.
_______________________________________________
Though our roles in these films have been very, very small, we've learned some valuable life lessons in the process of answering call-outs, working with directors, and following protocol on set."
_______________________________________________
But I can tell you that the film is an action-comedy. I learned how car crash scenes are filmed — and even got to drive my car in one. The Grand Rapids police, who'd been enlisted to close several intersections for the filming, were super-friendly and fun to work with. And what a thrill it was when a production assistant handed me a walkie talkie so I could hear the assistant director's cues in my car. It wasn't exactly stunt driving, but it was a totally different experience from any other films I've worked in. My comfort zone was reasonably stretched, and by the end of the week, I was starting to feel at home in the middle of Grand Rapids' busiest intersections.
Spending a few hours in "holding" — the place where background extras wait when we're not on set — is another opportunity to push past boundaries and comfort zones. At times, it can feel like you're hanging out in a circus tent. At the very least, it's an intensive exercise in public relations — and a fascinating glimpse into human nature.
In holding, you meet characters you wouldn't ordinarily find around one lunch table. This type of work attracts everyone from tattooed college students to laid-off auto execs and stay-at-home moms in need of a break. A few have full-time careers in more lucrative fields — and simply took time off work to discover what it's like to be in a movie. (It's always a fun story to share with friends.) Others are very serious about becoming film actors.
After working with these folks for nearly a week, it's hard to return home without fresh insight — and several new friendships.
Shaking up the old routine
Still, it wasn't easy to wake up at 5:15 every morning. Our call times were rarely later than 6:30 or 7:00, so we'd arrive bleary eyed at base camp to sign in and wolf down enough breakfast to hold us until our late-afternoon meal. Wrapping up around 9:00 each night, Doug and I would grab a sandwich and dash down to the basement of the hotel to launder our clothes. (We had to wear the same outfit every day but one.)  Then we'd crawl into bed, exhausted.
Working as a film extra probably isn't your idea of pushing past your own comfort zone. But now is the perfect time to take a closer look at your bucket list and ask yourself what's keeping you from following a dream or trying something quirky, fun, and new. Even if it merely shakes up your ordinary routine for a day or two, I promise you'll score a few points for self confidence.
All said and done, this turned out to be one of the most unusual "vacations" Doug and I have ever taken. It also capped the one-year anniversary of our foray into film work — and was the 12th production we've worked on to date. Though our roles have been very, very small, we've learned some valuable life lessons in the process of answering call-outs for bookings, working with directors, and following protocol on set. (More about those lessons in upcoming columns.)
On the way back to Detroit, I felt as if we'd been away much longer than a week. In a few whirlwind days I'd seen movie stars and stunt-car crashes and the heart of Michigan's second largest city. And I'd made some wonderful new friends.
Pulling into our driveway at home, I felt relieved to be back in my comfort zone, and I thanked my car sincerely for getting me there safely. It had worked hard for me, and I can't wait to see how it cute it looks in the movie. — Cindy La Ferle