By isolating himself at Walden Pond, Thoreau hadn't run away from life. He'd run toward it. Why couldn't we leave our lives of quiet, digital desperation and do the same?" — Susan Maushart, from The Winter of Our Disconnect
Once in a while, we all need to unplug. Friends who've been visiting this site for a while know I spend less time hanging out here in the "Home Office" once summer arrives. Escaping outdoors — sans laptop — restores my spirit and makes me feel whole again. I'm ready to start this week.
As it happens, I'm reading Susan Maushart's The Winter of Our Disconnect: How Three Totally Wired Teenagers (and A Mother Who Slept with Her iPhone) Pulled the Plug on Their Technology and Lived to Tell the Tale. It's a compelling (and often hilarious) memoir detailing how Mausart, a journalist, and her kids made the difficult decision to live without technology for (gulp) six months. Using current research to back her premise, the author shows how limiting our use of technology, including social media, can enrich the quality of our lives and deepen what she calls "real-life" relationships. As soon as I'm finished, I plan to review the book in a column.
But I'm not totally unplugging this summer. Unlike Maushart, I don't have the willpower to go for more than a week without checking Facebook, blogs, and e-mail. Through August, I'll continue to post links to my newly published material; or I'll rerun favorite (previously published) essays in keeping with the season.
Meanwhile, I'm still micro-managing my mother's life, keeping a watchful eye on her dementia and health-care issues. Trying to find my balance in the midst of it all has been the toughest challenge I've faced in a long time. Whenever possible, I follow Thoreau's sage advice to "Simplify, simplify." Right now, things with Mom are relatively calm — and I am working to keep them that way.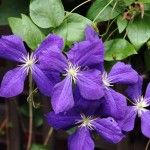 When you get a chance, please fill me in on what you're up to this summer … Will you be blogging more or less? Spending more time at the beach or in your garden? Planning a graduation party? Spending less time at the office? Please send me a cyber postcard before you unplug.  –CL
— Top photo: My Japanese garden, a favorite backyard escape. Bottom photo: A clematis arching over the gate in our backyard. All photos by Cindy La Ferle. —