The ordinary arts we practice every day at home are of more importance to the soul than their simplicity might suggest. — Thomas Moore, Care of the Soul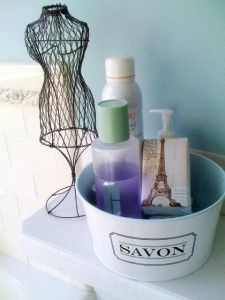 Up to my elbows in spring cleaning and redecorating this spring, I've been thinking about how we humans express our style and creativity in our homes.  I like to imagine that our rooms are 3-D scrapbooks of our lives, honoring the places we've traveled and the things we love. My favorite homes to visit are always the ones that truly reflect the personalities of their owners.
Even our bathrooms reveal a little of who we are. My own bathroom, for instance, is barely big enough to hold a sink, tub, toilet, and cast-iron radiator — yet I still try to make it an inspiring place in which to begin the morning.
It doesn't take much to thrill me. In my private world, the smallest details illuminate and elevate the ordinary.
Shopping at Target last month, I discovered a set of bathroom accessories that spoke to my love of all things French. (I've been lucky enough to visit France twice.) The pieces coordinated perfectly with the color scheme, and helped me organize the toiletries I keep near the sink. And I even found a cool bar of French-milled soap at Anthropologie. My husband made me a copy of a vintage print of the Eiffel Tower to hang on the wall — and voila! — the tiny space now looks like a powder room in a Parisian hotel.
Do you have spaces in your home that showcase your interests, travels, or creative spirit? Which room is the best expression of who you are? — CL