The grace to be a beginner is always the best prayer for an artist. The beginner's humility and openness lead to exploration. Exploration leads to accomplishment. All of it begins at the beginning, with the first small and scary step." — Julia Cameron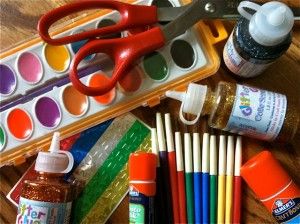 Remember the late-summer thrill of buying notebooks, Magic Markers, and bright yellow Ticonderoga pencils for a new year of grade school? And who could forget the incomparable scent of a fresh box of Crayolas? For me, the ritual of buying school supplies softened the hard reality of summer's end.
Even if your kids have flown from the nest, the beginning of the new school year still inspires personal growth and renewal.
Is there a dormant passion you'd like to rekindle? A hobby waiting for you to explore? My new column on Royal Oak Patch details the first season my son left home for college, and how I started a new "term" in the school of lifelong learning. Included with the essay are several photos of my art projects.  Please click here to read it. — Cindy La Ferle