There are years that ask questions and years that answer." — Zora Neale Hurston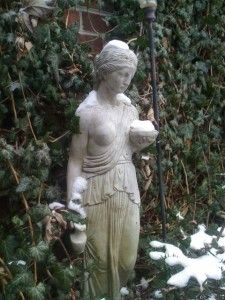 For several years I've kept a small garden statue of a woman by our side entrance. I named her Hestia after the ancient goddess of home and family. In Greek mythology, Hestia's role was to keep the flame of the hearth burning. This week she's dressed in snow — and looking a little overwhelmed by the onset of winter and the challenges ahead.  I can relate.
It's been a mixed bag of a holiday in our household. My husband and I have been enjoying a week-long visit with our son, who flew in from Chicago for Christmas last week. We've shared some cozy meals at home together — I love to cook with my family — and we've made time to visit extended family, old friends, and favorite haunts around town.
Meanwhile, real life also paid us a yuletide visit. On Christmas Eve, my mother (who was just diagnosed with early-stage dementia last month) came down with another serious infection. I spent most of Christmas Eve morning at the doctor's office with her, and the rest of the holiday bringing meals to her.
At times it felt awkward to celebrate with the rest of the family while my mother stayed in bed in her condo, watching television.  And so, with regrets, I canceled out of several parties and gatherings, all the while feeling guilty for lacking the social energy and enthusiasm required of the holiday season. I know I disappointed more than a few people for not showing up in one way or another.
My mother's doctor asked me to come in with my mother for a consultation this afternoon. As the doctor put it, we need to determine the next step for Mom's ongoing care. I'm guessing, from the doctor's tone on the phone, that 2010 will be a year of changes. But there's hope too. Mom agreed, after several arguments, to take a new medication prescribed for her dementia. She adores her condo — keeping house is the thing that gives her life meaning, shape, and routine. So I'm hoping she'll be able to stay in her own place as long as possible.
At this point in the holiday season, I'd usually be drawing up a lengthy list of New Year's resolutions. In the past, most of those resolutions would have included ambitious career goals and pie-in-the-sky dreams of self-improvement. This year, I'm asking only two things of myself: To sustain the energy I'll need to keep the fire burning — and to find the patience to ride out the changes ahead. — Cindy La Ferle
— "Hestia" garden statue photo by Cindy La Ferle —