Every leaf speaks bliss to me, fluttering from the autumn tree." — Emily Bronte
I'm not very good at weather predictions, but it's safe to say that Michigan residents will experience a drop in temperatures in a few short weeks. We'll be pulling out our weather-proof boots and shuffling (and sliding) through … snow.
Folks who enjoy winter sports might welcome the change; they'll wax poetic about the elegance of fresh powder on the ski slopes and snow clinging to bare branches. But I'm a three-season gal who likes it warm and colorful: Give me spring, summer, or fall.
The photos in this post were taken on our property in Royal Oak on November 6th. While many of our trees have lost their leaves, some are still ablaze with color, and I can't remember a year when autumn managed to hang on this long.
There's always something bittersweet in the change of any season, but fall is especially poignant. Whether you've just sent your youngest child off to kindergarten or to college, you sense the inevitable march of time. You feel the urge to get things done while you can. But it's also wise to remember, as Anna Quindlen pointed out, that "Life is not so much about beginnings and endings as it is about going on and on and on. It is about muddling through the middle."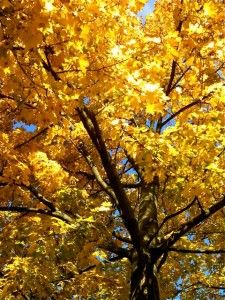 Yesterday, I stood in awe in the middle of our front lawn, trying to photograph the cobalt blue sky and the late afternoon sun filtering through the maple leaves. It looked as though the whole afternoon had been tinted with a paintbrush dipped in gold. I want to remember how it all looked — when I'm staring out my home office window on a January morning, and the same trees are bare and covered with snow.  — CL