By the time you become Real, most of your hair has been loved off. Your eyes drop out and you get loose in the joints and very shabby." –Margery Williams, The Velveteen Rabbit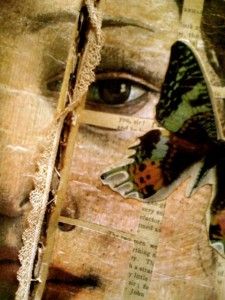 Earlier this week, my friend Alice posted this empowering Caitlin Crosby video on her Facebook wall and I was moved to share it with everyone. The video reminded me of an essay I wrote, published in a metro-Detroit women's magazine three years ago. Here it is:
How scars make us real
Once the anesthesia wore off and I could wiggle my toes again, my first concern was the new incision running down my left side. Ten inches long and an angry shade of red, it marked the place where my hip had been removed, packed with a bone graft, and totally rebuilt with a prosthetic implant. A long row of tiny staples closed the wound, making it look as if Dr. Frankenstein had sewn a zipper into my birthday suit.
Still woozy in the post-operative station, I imagined how awful the scar would look after it healed. And I wondered: Would I ever find the courage to wear a bathing suit in public again? Would my husband think my body was less attractive?
Coming to my senses the next morning, I tried to focus on my blessings. Those blessings included the skilled orthopedic surgeon who had agreed to perform the complicated three-hour surgery. Most orthopedic surgeons, including mine, prefer to reserve total hip replacement for elderly patients because they are less likely to need revision surgeries in the future.
I was only in my forties when I was diagnosed with degenerative osteoarthritis in both hips. But this sympathetic doctor understood that the quality of my daily life was "seriously impacted" by my disability, as he put it. Practically immobile, I'd already qualified for a handicap parking permit, and couldn't even stand at the kitchen counter long enough to open a can of cat food or prepare a simple family meal. I'd been missing band concerts and mothers' club meetings at my son's middle school because I couldn't climb the steps to the building. I'd started turning down lunch dates with friends, preferring to nurse my pain in bed at home.
I needed surgical intervention.
Of course, I knew I'd have several weeks of physical therapy and rehab during recovery. But I could also look forward to walking pain-free without canes or crutches again. So why did I let vanity dampen my hard-won victory?
Facing up to flaws

Scars of any kind are a challenge to recovering perfectionists. For years, I was one of those worried women who followed the advice given in beauty and fashion magazines. I invested ridiculous amounts of energy trying to conceal every personal flaw and foible. To expose my weak spots — or admit that I was ever damaged in any way — was too frightening to imagine. No matter how many skin-perfecting creams I bought, or how many self-improvement books I devoured, I couldn't stop believing that I didn't quite measure up.
Ironically, I've always admired quirks in other people and in most of the stuff I own. One of the early practitioners of shabby chic, I can list several rooms in my home that are furnished entirely with faded flea-market treasures and garage sale rejects. Overgrown cottage gardens, non-pedigree pets, freckles, rusty tools, crow's feet, and crooked smiles intrigue me. I've cherished childhood toys covered in stains and stitches, and I'm partial to an old leather jacket burnished by seasons of wear.
Scars and wrinkles are the emblems of a richly textured life — a survivor's life. They document our personal histories and bear witness to how far we've traveled. Our scars and wrinkles prove we've survived childbirth, car accidents, skin cancer, military combat, messy divorces, failed business opportunities, and lost loves.
My long recovery from hip replacement surgery gave me a lot of extra time to think about these things.
Practicing my physical therapy, I was reminded that becoming real requires bumping up against adversity — and sometimes falling apart. It's a deconstruction process. Whether you're nursing a shattered limb, a bruised ego, or a wounded heart, it can take time to reassemble and repair the broken parts. But ultimately you heal and, hopefully, grow more interesting. You tighten the loose seams in your character along the way.
Five months after my first hip replacement, I returned to the hospital for the same surgery on my other damaged hip. And today, six years later, I'm sporting a beautifully matched set of titanium joints that have given me back my mobility — and identical scars on each side. Over time, the scars have faded considerably, though you can still spot them several yards away on the beach.
Now I celebrate them — these two ten-inch valleys marking the surgeries that gave me a miraculous second chance. I have earned them, and they have made me real. — Cindy La Ferle
— In photo: collage detail from "On Beauty" (an altered book page) by Cindy La Ferle —