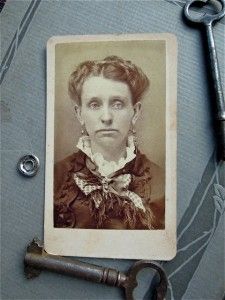 Making your unknown known is the important thing." — Georgia OKeeffe
Who was she? I have no idea. But I was inexplicably drawn to her photograph (at left) in an album that once belonged to my mom's stepmother, affectionately known as Granny Bee.
When Granny Bee died, my mother inherited this magnificent album of sepia-toned photographs — some dating back to the Civil War. Many are marked with the names of photography studios in Chicago or Aurora, Illinois; others are from studios in New Hampshire. Sadly, the folks in the photographs are not identified. Not a single name, event, or date is penciled anywhere.
Bee had no children of her own. I was her only step grandchild — by marriage — so the fate of this antique album now rests in my hands.
As it happens, I often use vintage photographs in my mixed-media artwork. (I make high-quality copies and preserve the originals.) In particular, the dour-looking mystery woman in Bee's album is a perennial favorite. Her deadpan expression is so priceless that she's played a starring role in countless craft projects, from greeting cards to note pads. She's worn a red poinsettia on her head for Christmas cards, for instance, and a witch hat on Halloween party invitations.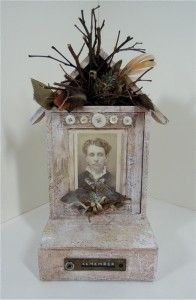 This week I finished a more lasting tribute to her: a mixed-media "reliquary" of found objects. (Please click the image at the far left for a larger view.) The word remember is incorporated throughout the piece, along with scraps from an old hymnal, sewing notions, vintage fabrics, feathers and twigs. The door to the piece opens to reveal a small collection of old bottles filled with found objects.
"I like photographs that leave something to the imagination." — Fay Godwin
I've even tried to give my mystery woman a proper name. "Isabel" or "Esmeralda" both seem to suit her — yet somehow I sense I'm on the wrong track. Early on, I tried to investigate. But even before her memory was fogged by dementia, my mother couldn't recall the name of the relative in the photo — nor could she determine her kinship to our beloved Granny Bee. So I'll have to settle for the stories conjured by my own imagination.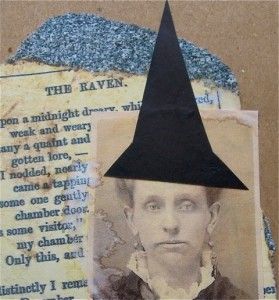 All said and done, crafting something with my hands sets my mind whirling in a thousand different directions. Making art is another way of telling stories. And I love how the process has created my special relationship with the incomparable "Isabel Esmeralda" — a relationship that reaches across time and never stops delighting me.
If she were alive today, would the Victorian mystery woman be honored — or appalled — at being the center of attention in my art pieces? I wonder if I could make her smile. — Cindy La Ferle
_____________________
"Remember" was chosen for the 2012 All-Media exhibit at the Ann Arbor Art Center, opening September 7, 2012. To view more photos of the piece on Facebook, click here.