Every artist dips his brush in his own soul, and paints his own nature into his pictures.  ~Henry Ward Beecher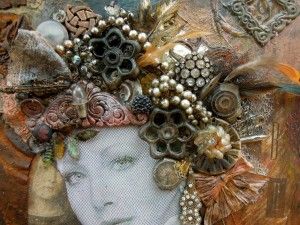 This the last of a three-part series on this project …
At this point, the portrait finally gains a three-dimensional layer. It's the most enjoyable step in the process, giving the imagination free reign and a permission slip to have fun.
For this step youll need an industrial-strength glue to secure the heavier objects to the piece. I use E-6000 on most mixed-media projects.
To create the headdress, I combed through several boxes of treasure Ive collected from thrift stores, garage sales, craft stores and flea markets.  Old rhinestone jewelry, vintage hardware, buttons, sewing notions. … You name it, I collect it. And when Im out walking or riding my bike, I often stop to pocket bottle caps, gears, and rusted can lids. Finding soulful beauty in these found objects, I often make a home for them in my artwork. To me, the broken or damaged items have more character — their own backstory — and I love how they add an air of intrigue to any piece of artwork.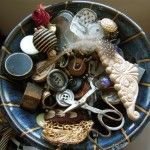 For this self-portrait project, I let my mind wander as I selected items to build the headdress. Think of it as free association.
It struck me that the headdress could double as an expression of whats going on inside my head while Im dreaming or working out a problem, for instance. I thought about the goals I'd scripted for my life when I was young — and where the journey has taken me since.
Rust and rhinestones
Picking through my button collection, I found a small copper button engraved with a locomotive. This item appealed to me instantly, reminding me of my sons boyhood fascination with trains and all the lovely times we spent walking the railroad tracks at a local park. (Some of the rusty iron and tin scraps used in this piece were collected near those same tracks.)
Likewise, the old fountain pen nibs honor my writing career, so I inserted them at the lower right side of the headdress. The weathered faucet grips (pilfered from my husbands hardware stash in the basment) and the twigs (from our back yard) salute my interest in gardening and the natural world.
Because I was born in Detroit — and my Scottish-immigrant grandfather had a tool and die shop — I wanted the headdress to have some edgy, industrial components. So, I included small gears and rusty machine parts along with the sparkling rhinestone jewelry. The Celtic knot triangle at the top of the headdress represents my beloved Scots-Irish heritage, while the stars sprinkled in the background suggest the night sky, when we're all dreaming.
Most important of all, the butterfly – floating in three different places – has been my personal totem for many years. During the roughest times in my life, including my two hip-replacement surgeries, the butterfly served as a reminder of transformation, hope, and recovery.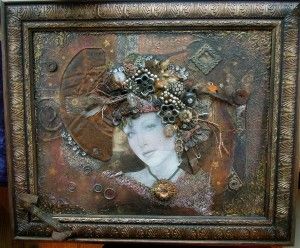 Lastly, in the "necklace" I created, youll see a remnant of costume jewelry, missing its original stone, which I refashioned to contain the photograph of an eye. Flipping through a fashion magazine, I found a photo of a female celebrity whose eye color looked fairly close to mine. (Can you guess whose eye it is?) The eye detail borrows from the mythology of the "all-seeing" eye, but also plays as a pun on the word "I" – all in good fun and just right for a self-portrait like this.
Once I adhered my chosen objects to the canvas, I applied another wash of black paint and antiquing glaze around the items that needed to be toned down.
I can hear some of you asking: Why bother with the background layer, given that it barely shows beneath the other layers? In a nutshell, making a collage is a process of trial-and-error. It's all about discovery and surprise — a lot like crafting a life. The past – our base layer – informs the life we have now, no matter how much we've morphed and changed in the process.  Along the way, we keep adding little gems of experience and a few hard-as-metal lessons. – Cindy La Ferle
— For a larger view, please click on each photograph; it will enlarge a couple of times if you click on a section of interest. If you missed the first two parts of this series, simply scroll down to the posts following this one. — 
All photos copyrighted by Cindy La Ferle