When you discover something that nourishes your soul and brings joy, care enough about yourself to make room for it in your life." — Jean Shinoda Bolen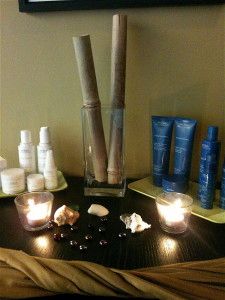 Whether you're caring for a young child or an elderly parent, it's hard enough to schedule time for your own dental appointments — not to mention a facial or a therapeutic massage.
Like most women I know, I feel a bit guilty when I schedule beauty and spa treatments on my calendar. Luckily, my husband likes to surprise me — on birthdays and holidays — with gift certificates for local pampering. That's how I ended up cocooned in a terrycloth bathrobe in a spa treatment room at the Douglas J Aveda Institute in Royal Oak earlier this week.
The modern Asian ambiance of Douglas J could easily hold a candle to some of the pricier professional spas Ive visited on vacations in northern Michigan.  Better yet, this escape is less than a 10-minute drive from my house.
The facility is actually a cosmetology school offering a full menu of beauty and spa services, from hair styling to body waxing. For my visit, I chose the Elemental Nature facial and Perfecting Plant Peel, both of which employ heady doses of aromatherapy.
Haley, the student assigned to apply my two treatments, invited me to take a seat in one of the treatment rooms while she filled a metal bowl with warm water for my feet. (A foot soak and massage are always included with Aveda facials.) While my feet soaked, Haley asked a few questions about the health of my skin and what I expected from my facial. We also selected the scented oils to be used in my treatments.
A scented candle flickered on a nearby table stacked with thick white towels. Meanwhile, the obligatory spa music – Native American flute and new-age piano – wafted through the hallway beyond my curtained treatment room.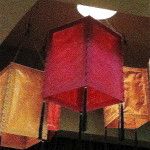 My facial also included a hand massage as well as special attention to my neck and chest. And while Haley performed all of the spa services by herself – and was totally professional – her support instructors periodically stopped by to check her progress. This is standard procedure at all Douglas J Institutes, which are part of the statewide Academy of Cosmetology founded by Douglas and Sharon Weaver in 1986. (The Academy partnered with Aveda in 1993.)
All of Aveda's spa treatments combine physiological and psychological benefits – and nothing synthetic is used in the products. It's all about "high touch versus high tech," with an emphasis on helping each client relax and re-balance.
It's very affordable, too. My 90-minute Elemental Nature facial/massage was $49, plus $15 with the added Perfecting Plant Peel. (Gratuities are not accepted.) I ended up with a fresher complexion, new skincare tips, and a much brighter outlook on life.
Best of all, for two blissful hours, I hadnt given a thought to my caregiving duties, or anything else on my to-do list. I enjoyed the experience so much, in fact, that I booked another facial for January — knowing I'll need a remedy for post-holiday burnout. As author and therapist Brene Brown advises: "We cant practice compassion with others if we cant treat ourselves kindly."  Copy that in your day planner.
HOLIDAY TIP: Most Aveda Institutes offer gift certificates for spa services, hair styling, manicures, and pedicures. You might want to mention this to Santa.