The greatest gift of the garden is the restoration of the five senses."  ~Hanna Rion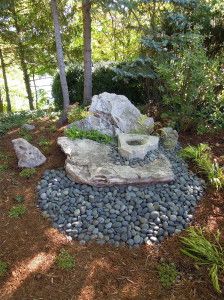 Last fall, I posted an update on the renovation of the Carl Schultz house, the mid-century modern Frank Lloyd Wright home that Doug and I purchased in 2008. The project has been hammered with challenges, pardon the pun, but rewarding, too.
As the avid gardener in our family, I've been pushing to improve the property around the house. (Doug, my architect husband, worries more about little things like roof leaks and cracked foundations.) Just outside the master bedroom, for instance, there was an overgrown Japanese rock garden in need of attention. And lots of manual labor. Tangled with ivy and weeds, it was too large a task for an amateur gardener with hip replacements.
So I owe a debt of gratitude to landscape designer Anna Brooks of Arcadia Gardens for making my dream garden a reality. To create a soothing zen oasis, Anna cleared the overgrown site, reconfigured the original rocks, and added a "dry pond" of river stones and a few deer-resistant plants. (I hope to add a water feature when our budget allows.) I've always had a passion for zen gardens, but I'm especially excited about this one.
Anna's team also re-landscaped several other key areas around the Schultz house, including the front entrance. It all looks amazing — and complements Wright's organic architecture.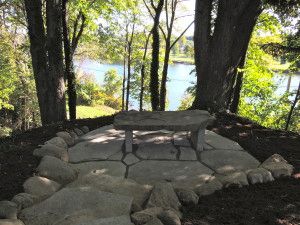 Of course, it's the dead of winter, and few of us in Michigan are thinking about gardening right now. But I couldn't resist sharing Anna's article in the Winter 2013/2014 issue of The Designer, the magazine of the Association of Professional Landscape Designers. A fellow MSU grad, Anna did a great job documenting the challenges and highlights of working on our project. We're honored to be featured. Using this link, you can flip to page nine, where you'll find Anna's beautiful story with photos: "My Summer Fling With Frank."
For more about the Carl Schultz house, including photos and renovation updates, please visit its official Web site: Frank Lloyd Wright's Carl Schultz House.  Photos of the zen garden in this post by Cindy La Ferle. Click on the photos for a larger view.