"Creativity always takes courage. — Henri Matisse
This is part two of a three-part series …
Bring on the acrylic paints! Adding more texture and brighter color to the background layer is the next step before adhering a photo of myself to the center.
Not unlike adolescence, this part of the process can be a little scary, not to mention messy.
As Matisse pointed out, creativity demands our courage. Having learned this lesson the hard way over the years, I keep trying to push myself out of my comfort zone, whether I'm working on an article or an art project.
You'll recall from yesterday's post that I was pleased with the fresh look of my first background layer — and was tempted to leave it alone.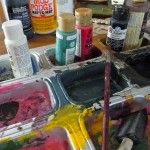 Instead, I asked myself which areas of the layered canvas I wanted to show through – even slightly – in the final piece. From the start, I wanted the red-haired Renaissance child to show through the additional layers of acrylic paint and stain — plus I wanted to retain a few letters of the alphabet. So, I made sure I didnt cover too much of those areas when I layered more paint on the canvas.
Why the bright splashes of red and neon pink? I wanted some color to warm up the darker "antiqued" palette I'd planned for the portrait. These colorful, random splashes will almost disappear once I layer a thin wash of sepia-toned acrylic stain over the entire background layer. (Please click on the photos for a larger view.)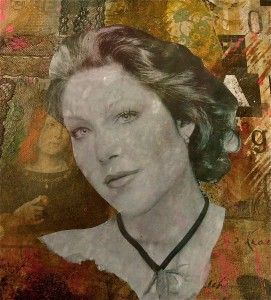 I'm drawn to things that have a patina or a worn, "aged" appearance — they carry a certain mystery and romance. Of course, that's simply a matter of personal style and taste. This might not appeal to you, so it you prefer a brighter palette, go for it. There's not a "right way" to do this, so it's best to leave any trace of perfectionism at the back door.
Next, for heavier texture, I squeezed generous amounts of tacky craft glue (Elmers is one choice) on the corners and swirled them into circular shapes. My goal was to imitate the look of an ornate picture frame at the edges.
Later, as you will see below, I added touches of metallic gold and bronze paint to these areas after the glue dried.
Next step:  Toning it down, adding the photograph
Once the glue dried, I began the process of toning down the background layers, to make them recede behind the photo to be added at the next stage. To do this, I thinned deeper shades of brown and charcoal paint with a glazing medium, then dabbed it over the canvas with a sponge or paper toweling. Again, my goal was to create depth and texture; to make the piece three-dimensional.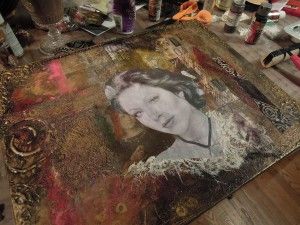 Now, to make this a real self-portrait, I placed a copy of a vintage black-and-white photograph in the center of my layered canvas. (I was about 25 years old in this photo, so it qualifies as "vintage" — right?)
As noted earlier, I wanted the painting of the Renaissance child to show in the portrait, so I positioned my own photo in such a way that the child appears to be looking over my shoulder.
I liked the way this plays on the idea that "the past" is always behind as an influence, and that my younger self is still part of me.
Again, I used gel medium to adhere my black-and-white photo, then let it dry. Then — using a lot of Mod Podge — I added a few scraps of old lace at the neckline to create a collar. After it dried, I layered several washes of stain over the lace.
While I wanted to "tone down" the background layers, I decided not to antique the photo of myself. With the darker palette I envisioned for the final version, I knew that I'd want the face to "pop" from the background. But my "Memoir on Canvas" is nowhere near completion here — and the fun part is next. Stay tuned …
TOMORROW: Adding found objects and finishing the portrait
 — All photos and material copyrighted by Cindy La Ferle —