This piece is included in 09/11 8:48 AM: Documenting America's Greatest Tragedy, an anthology of raw, immediate accounts published across the nation after the tragedy of 9/11, edited by Ethan Casey with the New York University School of Journalism. It first appeared in The Daily Tribune (Royal Oak, MI).
The Long Way Home
By Cindy La Ferle
September 20, 2001, Royal Oak, MI
A little more than a week has passed since our country was attacked and brought to its knees. A friend of mine says she is trying to wake up from what she calls Stephen Kings worst nightmare. The rest of us still feel as though weve been wandering in a fog, unable to find our way home. Home, it seems, has been completely redesigned by horrific acts of terrorism. Ever since last Tuesday, everything is different. Everything.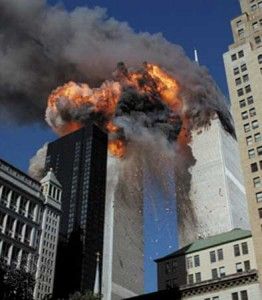 I have stopped assuming that home will ever be completely safe from disaster. This thought alone makes every wall, every window, every piece of oak, maple, brick, or concrete in my neighborhood, my world, seem all the more precious.
Ive stopped obsessing over the things I used to obsess about. Ive stopped worrying about the fact that my refrigerator needs cleaning and the walls in the kitchen need repainting. Things like that dont matter now. My focus has changed.
It doesnt matter if my family leaves a mess on the breakfast counter every morning. And so what if I trip over somebodys shoes in the hallway? I am deeply grateful that there are people living here — eating breakfast and wearing shoes.
I imagine this is all part of the grieving process, and that someday things will seem normal again. Right now, though, I feel a bit like Emily in Thornton Wilders Our Town. Emily is the character who, near the end of the play, returns to her hometown as a ghost and realizes how much she took for granted when she was alive. Emily recites a list of the simple things that made her days precious — things like the smell of freshly brewed coffee in the morning.
I know exactly what she meant. This week Im savoring the taste of summers last tomatoes. Im taking time to watch the sun set behind the maples in our yard, and to listen to the sound of cathedral bells just a few blocks away.
But I cant think of anyone who is appreciating the comforts of home as much as Norma Gormly of Troy, Michigan.
Normas plane was diverted back to Londons Gatwick Airport immediately following the terrorist attacks on the World Trade Center and the Pentagon.
Norma and her daughter, Jan, had been on vacation and ended up stranded at a bed-and-breakfast inn outside London until the airways were cleared for their return to the United States. Theirs was the first Northwest flight to leave last Friday. As Norma told me, it was quite an experience.
"We had to go through four checkpoints and check in all bags," she recalled. "We were allowed our purses with personal stuff only. Following a body search, we were admitted to the lounge area."
None of the passengers complained, though, even though their wait was long.  Another three hours passed before their flight left Gatwick.
"We felt good that they had done all that they could for our safety," Norma said. "We had the same flight crew from our diverted plane."
That crew, Norma recalled, wore black ribbons around the gold wings on their uniforms. Some were fighting tears, "but they all promised to do their best to make our trip as normal as possible. Our captain was informative and soothing."
Norma and her fellow passengers clapped and cheered loudly as their plane finally took off. They cheered again when the plane passed over Canada. And it was, as Norma remembers, a tremendous relief to arrive back home in America.
"We cheered and clapped, then cheered and clapped again upon landing at Metro Airport. We were home at last!"
No matter what shape its in, Norma added, theres no place like home. Home is a word every American cherishes – more than ever, now. — Cindy La Ferle
This essay was originally published in The Daily Tribune (Royal Oak, Michigan) and is also included in my essay collection, Writing Home. The book is available locally at the Yellow Door Art Market, Berkley, MI