A smiling face is half the meal" – Latvian proverb
Now that November's here, shelter magazines are already featuring stories on holiday entertaining. Here's a favorite essay from Writing Home –Â reprinted with the hope that it will set the tone for a more relaxed holiday season at your house …. Â Â 

The Secret of Stress-free Dinner Parties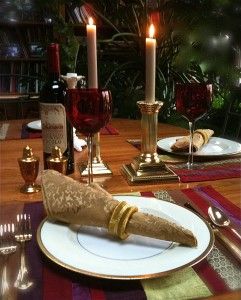 My friend Pam knows the real secret of successful entertaining, and I wish I could be more like her.
Pam doesn't spend weeks obsessing over what she'll serve for dinner, nor does she turn her life inside-out when a carload of company arrives from Cincinnati for the weekend.  And it's not that she doesn't care. Pam and her husband, Steve, genuinely enjoy hosting friends and family, which partly explains how they make it look so effortless.
I like to remember the winter evening my husband and I were invited to their home for an impromptu dinner with another couple.
"Wear something comfy, and don't expect anything fancy," Pam warned us. "We're just having a casual meal before the holiday rush."  But that didn't mean beer and pizza on paper plates. This was a real celebration of friendship.
Pam had dressed her table with a navy blue cloth and a simple homemade centerpiece of apples, tangerines, and pears. Around the fruit she lit a few votive candles. Before lifting a fork or a wine glass, Pam asked that we all join hands and give thanks for our years of friendship and the chance to slow down long enough to eat a meal together.
As promised, for dinner she served comfort food, including roast pork, a vegetable casserole, and spicy baked apples for dessert. The whole evening, in fact, was cozy and relaxed and nourishing — and Pam insisted she enjoyed it all as much as we did.
"We wouldn't entertain as often if we felt we had to make a big deal out of it," she told me.
I'm still trying to break the habit of making "a big deal" out of hosting company. The folks we typically entertain, after all, don't expect a major production. But like many women I know, I was brainwashed into thinking that making dinner for company is synonymous with staging a photo shoot for a shelter magazine. I worry that my guests will scrutinize my housekeeping and discover my inner slob. And while I love to cook, I still worry that anything I serve, whether it's meatloaf or Lobster Newberg, won't turn out like the photos in the cookbook.
Of course, my feelings of culinary insecurity always rise like bread dough at holiday time.
Come fall, even before I've folded up the Halloween ghosts, I'm already fretting about Christmas decorations and turkey recipes. By mid-November, everything on my to-do list starts leaping around in my head like a chorus of nervous elves. And by the time the holidays are over, I'm thanking heaven that they are OVER.
But it doesn't have to be like this. Fussy entertaining puts everyone on edge and creates just as much pressure for guests as it does for the host. The quickest way back to sanity is to remind ourselves that most people are easily pleased with home cooking and real conversation. We don't have to own Waterford crystal or serve meals worthy of a four-star chef. And the ones who truly enjoy our company aren't judging us by our napkin rings.
Sharing an evening with good friends is a gift in itself when the occasion is heartfelt, the presentation simple. Pam and Steve figured this out a long time ago, and that's why it's always such a pleasure to gather at their table. — Cindy La Ferle