If you really want to write, you will do it anywhere: under trees, on the bus, in the bathroom, or in a booth at a noisy cafe."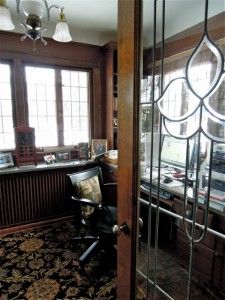 First published in 1929, A Room of One's Own by Virginia Woolf is often reduced to a catchphrase for writers and architects who haven't even read the book. Originally penned as two lectures, Woolf's landmark essay asserts that every woman writer should have a substantial income and a room of her own if she is to produce literature worthy of publication and readership.
Furthermore, Woolf said, women who want to write ought to be given the freedom to travel — and they must have plenty of idle time for daydreaming and creating. That was very progressive talk for the 1920s.
And while it isn't exactly earth shattering today, A Room of One's Own is still considered a major milestone for women writers. Whenever I'm asked to name 10 books that changed my life, this one never fails to top the list.
Excuses, excuses!
Not surprisingly, the subject of finding or creating "the perfect writing space" always comes up in the writing workshops I teach. Sadly, not having a room of one's own is the most popular excuse for not writing anything. I've met a few self-described procrastinators who have an extra guest room, for instance, but insist they can't work there because it's poorly lit, uninspiring, too small, too cluttered, too close to the neighbor's window, or cursed with bad feng shui.
But sooner or later, every serious writer arrives at this truth: If you really want to write, you will do it anywhere: under trees, on the bus, in the bathroom, or in a booth at a noisy cafe. Serious writers need only a pen and a notebook to get started. And nothing — not even a bad view or ugly curtains — will stop us.
That said, I believe Virginia Woolf made an excellent point about the need for peace and privacy, and she didn't even have kids to distract her.
Setting boundaries, closing doors
Working with little ones underfoot is another challenge entirely. When my own son was a toddler, I began freelancing in the damp basement of our 1920′s home. If you're a younger parent who's eager to combine writing with motherhood and homemaking, setting up shop at a kid's craft table next to the laundry room might sound convenient.
But I quickly discovered this was not what Virginia had in mind.
Working in a murky basement became a metaphor for the way I undervalued my career at the time. Aside from the fact that the ambiance was vaguely reminiscent of Freddy Krueger's boiler room, my desk was typically littered with construction paper or my preschooler's science experiments. Settling in to write, I'd find blue finger paint or Play-Doh oozing from my paper-clip container. My scissors and rolls of tape mysteriously disappeared.
Meanwhile, the clothes dryer kept buzzing, which didn't exactly impress editors when I phoned to pitch stories.
A year later, I moved my office upstairs to a sunroom with windows overlooking the yard. Not so coincidentally, I started taking my work seriously then. My writing became both a career and a vocation. I established a tighter writing schedule and contributed regularly to several local newspapers and national magazines.
Two years ago, my husband generously agreed to renovate my office-sunroom, adding shelves and counter-top space for books, a printer, and office supplies. Most important of all, my home office has a glass door to help establish my boundaries.
Clearing your own space
Every writer is different, so you'll have to experiment until you find what works for you.
Not long ago, I met a parenting columnist who's also the brave mother of four little boys. She rented cheap office space just ten minutes from her house, which seemed like a brilliant idea at the time. But after three months of commuting back and forth to work and trying to coordinate an awkward breast-feeding schedule, the columnist admitted her new office wasn't so ideal. The clamor of family life is what kept her energized and motivated.
If you don't have the luxury of a spare bedroom or an attic with a desk, claim a corner of the house where you can focus on your work. Use the area just for writing (or your other creative projects) and keep supplies within easy reach. Put up a folding screen for privacy while you work; or use it to conceal your works-in-progress. Creating an official space for your creative life will dignify your goals and intentions. You'll find it easier to follow a routine — and harder to keep making excuses.
If you don't already have a room of your own, can you describe your ideal space — right down to the supplies you'd need? What would you have to do to make it a reality?  – Cindy La Ferle
Note: Part of this essay is excerpted from a previously published essay "Home Sweet Office" — which appears in full in my book, Writing Home.
Top photo: a glimpse of my recently remodeled home office in Royal Oak.