One is not born into the world to do everything, but to do something." — Henry David Thoreau
It's that time of year. Everyone is gearing up to run marathons and raise funds for a favorite cause or organization, whether it's breast cancer or juvenile diabetes or the local Boys & Girls Club. I used to feel guilty for not joining Detroit's annual Race for the Cure, but my bionic hip replacements weren't designed to meet the long-distance challenge.
Several years ago I came up with another way to honor my paternal grandmother, Ruby Gullion, who had breast cancer. At least once a year, I volunteer to lead writing workshops for William Beaumont Hospital's Sharing & Caring, an educational support group for breast cancer patients, survivors, and their families. My workshops always focus on the healing aspects of writing and sharing our stories. Since many of the women who attend are new to journal-keeping and personal writing, my job is to talk up the benefits and give them the tools to begin.
For starters, I ask the participants to list a few of the lessons they've learned from breast cancer. Or to write about the strengths they didn't know they had until they were diagnosed and treated.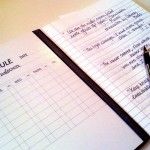 Giving them 20 minutes of free-writing time, I tell them not to worry about editing their work or even completing the exercise. The goal is to get pens moving and thoughts flowing. Those who are comfortable reading aloud are invited to share what they've written with the group. Invariably, every lesson, every story shared, touches another woman in the group who needed to hear it.  Most of the women are amazed at what they've put into words — and the evenings typically end with tears and hugs and promises to keep on writing.
As many teachers will tell you, I always end up learning more from my "students" than they learn from me. Sharing their struggles, fears, triumphs, and courage, the breast cancer patients and survivors I meet at Beaumont always remind me to treasure every single moment I'm given in this life.
I may have donated my time, but I walk away richer for the experience.
I share this information for two reasons. First, I want to underscore the therapeutic, connective powers of writing — and to remind everyone that "getting published" isn't necessarily the goal of a writing practice. Secondly, you don't have to run a marathon or walk miles to support a cause or organization you believe in. You have gifts and talents that you can volunteer to share with others who need your expertise. So get out there and do something. — Cindy La Ferle