Bring forth the raisins and the nuts-
Tonight All-Hallows' Spectre struts
Along the moonlit way."
~John Kendrick Bangs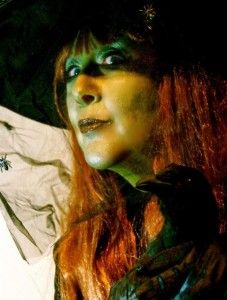 Anyone who's known me for a while knows that I'm crazy about Halloween. Like many Baby Boomers, I harbor a ridiculously fierce nostalgia for the holiday. What else would you expect from someone who counts watching The Addams Family on TV as a treasured childhood memory? Not surprisingly, there are few things I enjoy more than dressing up in a costume and handing out candy to the neighborhood kids.
For years, my husband Doug created an artful "Disney haunted house" landscape — replete with a cemetery and a mummy with glowing red eyes — at the entrance where the kids come to trick-or-treat. When our son Nate grew up and left for college, we toned it down a bit, but the neighbors were devastated the year we were out of town on Halloween and didn't decorate. So we keep the tradition going as best we can.
Inside, I still dress the house with paper skeletons, pumpkins, and shiny black-feathered ravens. I own a small collection of vintage Halloween decorations, which I display on the living-room mantel in a nest of autumn leaves and a string of orange lights. Even when I'm not hosting a big Halloween bash, friends and neighbors like to stop by for a drink and a few ghost stories (or magic tricks) around the fireplace on Halloween night after the trick-or-treaters head home.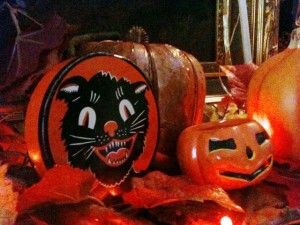 While I've never been a fan of blood-and-guts "slasher" films, I enjoy scary movies, especially in October. I prefer classic horror films, thrillers, and ghost stories — Psycho, Rebecca, Something Wicked This Way Comes, John Carpenter's original Halloween, The Others, The Addams Family, The Haunting, The Shining, Practical Magic, The Legend of Sleepy Hollow, Nightmare Before Christmas …. you get the idea.
This Sunday, October 24, happens to be our 30th wedding anniversary. After a celebration dinner, Doug and I will be glued to the TV set, watching the premiere of Secrets in the Walls, a Lifetime horror film in which we worked as background extras last fall. If our brief appearance didn't land on the cutting room floor, you'll catch a glimpse of us (as a nurse and a doctor) in the hospital scene. Starring Jeri Ryan, the production was filmed in Ferndale and metro-Detroit. It revisits a time-honored theme: a creepy old house haunted by a spirit that won't let go. Bwa-ha-ha-ha-ha-ha-ha-ha-ha-ha!