If you do a good job for others, you heal yourself at the same time." — Dietrich Bonhoeffer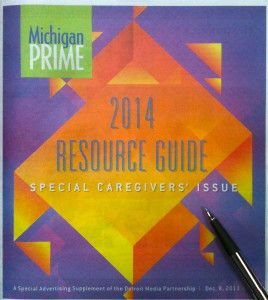 Until my mother was officially diagnosed with vascular dementia in 2009, I wasn't sure how to deal with her changing behavior. And I didn't know where to turn, at first, to get the help we'd both need as her disease progressed. I was often frustrated and exhausted — and frightened.
Whether your elderly parent is showing signs of a memory loss disorder or other major health problems, you won't want to miss Michigan Prime's 2014 Resource Guide: Special Caregivers' Issue.  My column in this issue recalls how I faced the early stages of my mother's dementia. The issue also includes a feature and checklist on how to choose an assisted living residence. (You can read my piece on page 6 of the online edition.)
I wish I'd had a resource like Michigan Prime several years ago. And that's why it's so important to me to write about caregiving issues today. I hope that my experience — including a few blunders along the way — will serve as a guidepost for others who are starting this difficult journey with their own parents.