Home is a name, a word. It is a strong one; stronger than any magician ever spoke, or spirit ever answered to, in the strongest conjuration."  ~Charles Dickens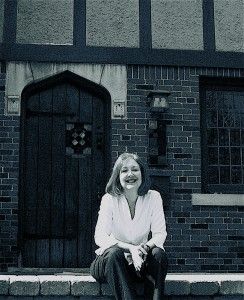 With Halloween approaching, I'm reminded of an essay I wrote about my passion for old houses. It was first published in the Detroit Free Press Sunday Magazine in August 1992, and is reprinted in my book, Writing Home, now on Kindle with a new preface …
Does Lurch Live Here?
Most people have the common sense to buy houses that are younger than they are.
They sleep snugly under leak-free roofs, secure in the knowledge that if something goes bump in the night, it probably isn't the heating system.  Their homes are airtight sanctuaries of Pella windows, state-of-the-art plumbing, and bubbling Jacuzzis.
To homeowners with such modern sensibilities, my family's 1920s Tudor-style home looks like a gloomy architectural relic, all dark woodwork and creaky floorboards.  A place only the Addams family could love.
"I cant believe people really live in these old places," gasped one visitor who recently toured the house.
Throughout our twelve married years together, my husband and I have always purchased houses built before 1947. Weve searched, begged, and borrowed to get them. We've tolerated cracked plaster, peeling paint, damp basements, and antique toilets. We've put up with steam pipes that clank and moan after midnight like Marley's ghost.
Are we out of our minds?  Why would we choose to live in an old house, subjecting ourselves to outrageous repair bills and leaded-glass windows that rattle in the slightest breeze?
I'm never quite sure how to explain my own passion for houses with a past. But I can trace its beginnings to my childhood vacations, when my parents drove me to Colonial Williamsburg and Mount Vernon.  While other kids rode roller coasters in Disneyland, I snooped around George Washington's bedroom.  Early on, I discovered that buildings, like people, acquire nobility and character as they mature.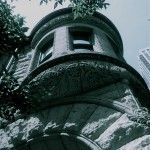 Old houses are survivors. They possess a mystique that seems to say, "Ive been here long enough to see some things that you havent." And the best ones persevere despite the "improvements" inflicted upon them over the decades by various owners with questionable taste. Brick and stone prevail; solid architecture endures.
I'm also drawn to the history that comes with an older house; I'm intrigued by the everyday romance of the people and events that have become a part of its mortar and plaster. In fact, buying an older house usually has nothing to do with common sense — and everything to do with history and romance. In a way, choosing a house that someone else has lived in is a bit like choosing a marriage partner:  You grow to love the bumps and flaws, and accept the things you cannot change. (People who insist on having everything their own way should design new houses.)
My husband and I bought our first old house from Gertrude Morris, an endearing elderly woman who was reluctant at first to put her place on the market. She had years of memories tucked away in her kitchen cupboards and bedroom closets, and her late husband had left a legacy of wildflowers and wayward groundcover in the backyard.
Brick and stone prevail; solid architecture endures."
After the closing, our real estate agent confided that Mrs. Morris "liked" us. So she graciously surrendered the keys to the door that had sheltered her family for so many years. She had agreed to a land contract with us, so she was, in a way, still keeper of those keys.
I remember sending her a monthly house report with each payment.  One time I told her about the red calico wallpaper I struggled to put up in our cramped kitchen; another time I wrote about the bright pink sweet peas I uncovered during my first spring in the garden.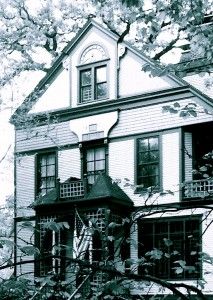 Mrs. Morris couldn't always respond. But one Christmas she answered, in a wavering hand, that she was pleased we were taking such good care of the house. After she died, I heard that she had looked forward to my letters in the nursing home. They were an important link to a place that mattered to both of us.
Its been several years since we sold "Mrs. Morris's house," but I drive by it sometimes, just to be sure its new owners are taking care of it.
We've lived in our 1920s Tudor for just over a year now — long enough to see the silver maples on the lawn change through a full cycle of seasons. But not long enough for the neighbors to think of this as our place. That will happen as our lives weave slowly into the fabric of the neighborhood, when our past becomes a longer chapter in the history of the house.
My son, now six, is learning to appreciate older houses, too.  He can call some of them by their proper names:  Cape Cod, Tudor, Dutch Colonial. He is just beginning to understand the inevitable progression of time, and how buildings connect us to the people who lived before us.
And my boy has become quite the preservationist, putting old things to clever new uses. When he and his friends come inside after playing in the snow, he shows them how to dry their soggy gloves on a cast-iron radiator in the hallway. During one of these winter rituals, I overheard him lecturing another child on the virtues of radiators and steam heat.
"Steam heat is the greatest heat there is, and you won't find these big old radiators in new houses," he boasted.  "That's because old houses are better than new ones."
A mother with more common sense would have tactfully interrupted the conversation, and assured both children that old houses are not necessarily better than new ones. I didn't say a word. — Cindy La Ferle
–Top photo of Cindy La Ferle at home in Royal Oak (by Rick Smith); middle and bottom photos are details from an architecture tour in Chicago (by Cindy La Ferle). —