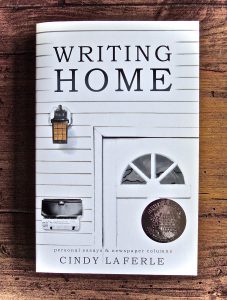 My story collection, Writing Home, celebrates its 12th anniversary this month. Published in 2005, the book is now in its second printing — and available in a Kindle edition.
Written during the years I worked at home while raising my son, Writing Home has been called "a love letter to home and family life." Some of the columns first appeared in the Sunday Daily Tribune and The Christian Science Monitor, while others were published in national magazines including Reader's Digest, Better Homes & Gardens, Mary Engelbreit's Home Companion, and several popular anthologies.
I'm especially proud of the fact that — within the first year of publication — I sold enough copies to donate a few hundred dollars of my proceeds to organizations serving the homeless in my community. Along the way, Writing Home has been honored with several awards, too, including one from Writer's Digest and another from Midwest Independent Publishers Assoc. But the real rewards, for me, come from the readers who tell me how much they've enjoyed the book over the years. Thanks to you, dear readers, it continues to sell in local stores and workshops. I have pulled the title from Amazon, though you can purchase used copies there.
Local shoppers: Writing Home is always in stock at the Yellow Door Art Market in downtown Berkley — an absolutely wonderful shop specializing in Michigan-made art and products.