"Despite social media, between two-thirds and three-fourths of Americans believe there is more loneliness in todays society than there used to be, and feel they have fewer meaningful relationships than they did five years ago." — Shasta Nelson, Frientimacy: How to Deepen Friendships for Lifelong Health and Happiness.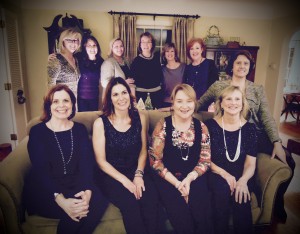 In "Rebooting the Buddy System" — this month in Michigan Prime — I discuss the benefits of rebuilding our social circles in midlife and beyond.
What began as my usual 575-word monthly column ultimately morphed into a full-length feature based on interviews with friendship experts and responses from dozens of readers in the target audience. Look for Prime in your March 6 (Sunday) Detroit Free Press. Click here and flip to page 5 to read the piece online.
Photo: My neighbor pals at a holiday gathering, December 2015. I'm in the back row, far right (red hair).