Earlier this week, a student in my writing workshop read a wonderful essay about working as a newspaper carrier when he was a boy. It brought back a memory of a column I wrote for The Daily Tribune when my son was in high school. I promised I'd post this after our class discussion on nostalgia pieces. Here you go, Jim …
Newspaper careers seem to run in families. My great-great grandfather was a foreign correspondent based in Washington D.C., and while my work isnt nearly as glamorous, I must have inherited his passion for newsprint. And I shouldnt have been surprised this year when my son Nate decided to run for the editorship of his high school newspaper – and won.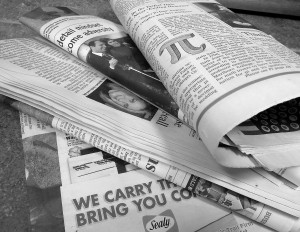 Ive always been careful not to push Nate in the direction of my own journalism career, but I discovered early on that printers ink runs in his blood, too. As soon as he turned twelve, the kid begged for his own paper route. His dad and I were ambivalent at first — and secretly relieved to learn that no routes for the local daily were available. But following a major blizzard that winter, Nate got a call with the good news: A route had opened up in our neighborhood. He couldn't wait to get started.
"I hope you know what you're getting into," another parent warned me. "Not only are you writing for the paper, Cindy, but you'll be delivering it, too."
Soon after, mile-high stacks of freshly printed newspapers and ad supplements arrived daily on our porch. Rubber bands, plastic bags, and other delivery doodads littered every surface in the house.
In retrospect, I think it was worth the hassle. The smart-alecky seventh-grader got a sharp taste of the business world. He learned that customers expected his product on time, regardless of whether he was late from school or had "tons of math homework." He discovered that readers were paying for the convenience of home delivery, not for papers tossed in puddles on the sidewalk. He learned the diplomacy required of every bill collector, as well as how to balance accounts when money was due. This was real-life math.
He also found that the biggest challenge for any newspaper carrier is crawling out of bed before sunrise on Sunday mornings – hours before the local pastors have opened their Bibles. Though Nate covered his own route on weekdays, his dad and I helped deliver the bulkier Sunday papers at dawn. Other parents told us we were spoiling the kid by chauffeuring him block to block when we could have been sleeping in, but I never saw it that way.
There was magic in those Sunday mornings. Since Ive never been an early riser, it was a rare gift to watch the sun rise. In the summer, especially, the color show was spectacular – neon streaks of lavender, orange, and gold flashing above scarlet treetops on the suburban skyline. As each bundled newspaper hit its targeted porch, it also struck me that my relationship with this gangly boy had morphed overnight into a tug-of-war between my moody middle age and his stubborn adolescence. His boyhood was ending too quickly.  
"Please… slow… down!" Id holler as he frantically scaled porch steps, two by two, trying to finish the route before 9:00 a.m.
The cheerful camaraderie wed shared in the early grade-school years had recently given way to recurring battles over household messes and Internet use, but during the time we worked the neighborhood route we were back on common ground. If only for an hour or so a week, we were a team again.
To everyones surprise, Nate kept that job for nearly two years, quitting it only because homework and high school commitments had to take priority. It was a learning experience for the whole family. We never rushed home after the last paper was delivered, but made a special ritual of stopping for hot chocolate and hash browns. The rest of the day, and its deadlines, could wait. — Cindy La Ferle, June 21, 2003
A slightly different version of this column was first published in The Daily Tribune (Royal Oak) on June 21, 2003, and later reprinted in my essay collection, Writing Home.