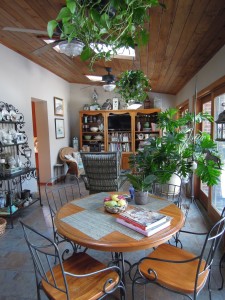 The flu bug hit me with a double-whammy at Christmas, rebounding as a respiratory infection on New Year's Day. Out of courtesy to the public, I cancelled social plans and stayed home during my weeks of recovery.
It took getting sick to remind me that I hadn't taken a moment to sit quietly since my mother died in September, exactly six months after she'd been placed in hospice care. Doug and I had barely recovered from an epic August flood that devastated our community (and drenched our basement). As another friend put it, for many of us, last year was a TV series that should have been titled "One Thing After Another."
I'm not the sort of person who likes to stay in bed all day, even to nurse a flu virus. And so, in between cat naps, I listed the household projects I'd put off for ages, including new linens for the bed. (I'd just published a column on the topic of breaking out of our metaphorical comfort zones, which also made me realize, ironically, that I'd neglected my own "comfort zone" here at home.)
Having adopted a large rescue dog in October, Doug and I needed to rearrange some furniture to accommodate our new family member and lifestyle. So, while nursing our nagging coughs, we tinkered with our surroundings. The dog's crate was moved to a better location in the garden room, where we also created a cozier seating area for the humans. In the process, I enjoyed a renewed interest in the domestic arts and found that my post-holiday depression (if not the flu) was starting to lift.
Along the same lines, I remembered an old column I wrote back in 2003 for The Oakland Press. Titled "Puttering," the full version of the essay is included in my book, Writing Home. Here's a short excerpt:
THE LOST ART OF PUTTERING 
Cheaper than air fare or psychotherapy, puttering lets your mind wander while your body hangs out around the house. Unlike fall or spring housecleaning, which involves physical energy and high-powered appliances, puttering puts you in a Zen-like state of bliss. Not to be confused with slacking, fidgeting, noodling, fiddling, or piddling, puttering is good for mental health.
Sadly, ours is a goal-directed, work-till-you-drop culture. And since most of us like to boast about how terribly busy we are, puttering is never easy to pull off.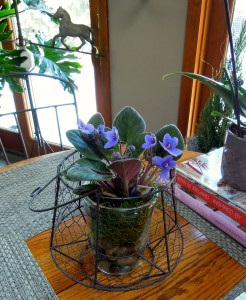 For those who practice on the sly, like I do, puttering styles are varied and highly personal. Puttering can be the act of sorting through a box of college textbooks in the basement; tinkering under the hood of an old Chevy; or rearranging things on a shelf while you listen to jazz on the stereo. Puttering is a way of clarifying lifes myriad details, especially when its done with reverence for the objects at hand. Its an opportunity to reconsider what we most enjoy in our homes, and to make a mental list of what wed like to edit later.
Feeling sluggish and blue last week, I decided to putter in the kitchen. Taking inventory of my good china, I lost myself in happy memories of the two grandmothers who had actually used all the serving pieces for holiday dinners. I marveled, too, at how both sets of dishes have survived several moves and kitchen renovations – and somehow outlived their original owners.
If puttering still sounds like a chore youve postponed, its only because you havent found a method that cheers or relaxes you. One man's notion of drudgery, after all, can be another's idea of soul craft.
"I can't explain it, but I enjoy doing dishes," writes Thomas Moore, a former Catholic monk and author of the best-selling Care of the Soul. "I've had an automatic dishwasher in my home for over a year, and I have never used it. What appeals to me, I think, is the reverie induced by going through the ritual of washing, rinsing, and drying." Thomas Moore can come over to my house and wash dishes any time he visits Detroit (especially if his visit coincides with another power failure). Meanwhile, I'll keep loading my dishwasher.
Still, theres merit in savoring the ordinary tasks of daily living. A lot of us spend our lives reaching for lofty goals, or at least trying to look productive 24/7. This wouldnt be such a bad thing if so many of us werent scratching our heads and wondering whats missing even after weve won all the trophies. (Consider all those baby-boomer executives who cant wait to retire.)
"My life has no purpose, no direction, no aim, no meaning, and yet Im happy. I cant figure it out. What am I doing right?" observed Charles M. Schulz, creator of Peanuts.
Charlie Brown, after all, was pretty good at puttering.
Top photos: Our garden room, after rearranging the furniture this week.