You can't stay in your corner of the forest waiting for others to come to you. You have to go to them sometimes." — A. A. Milne, Winnie the Pooh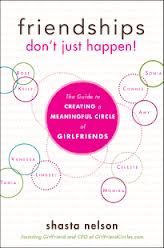 While writing an article on friendship last year, I found several terrific resources on the topic. Among them: Shasta Nelson's new book, Friendships Don't Just Happen: The Guide to Creating Meaningful Circles of Girlfriends.
A former pastor, Nelson was a life coach who often found herself helping clients form new friendships when they moved to new cities or entered new life stages. Drawing from that experience, she launched GirlFriendCircles.com, a popular friendship match site for women.
As Nelson reminds us in Friendships Don't Just Happen, many women have fantasies of what "ideal" friendship looks like. In television shows like Sex and the City and Desperate Housewives, she explains, "friendship is always highlighted as the one relationship that is constant through life's ups and downs."
But real-life friends sometimes fall short of Hollywood role models. Real-life friends might criticize or compete, push boundaries, neglect to reciprocate or support, never initiate plans, show up late, or forget to send birthday cards. In other words, real-life friends are human and they will disappoint us.
Not to worry. Nelson's book provides a map for creating healthy, mutually satisfying friendship circles — and encourages us to ask ourselves what we're seeking (or expecting) from individual friends.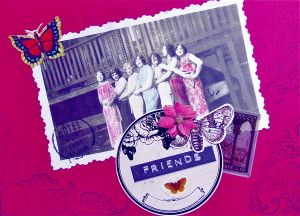 "Knowing that most friendships aren't forever invites us to forgive ourselves for those relationships that didn't live up to the fairy tale," Nelson writes. It also helps to understand — and value — the various roles that different friends play in our lives. Listing five categories of friendship, from casual friends to committed friends, Nelson explains how each category enhances our well-being.
Nelson's book encourages us to ask ourselves what we're seeking or expecting from our friends."
According to sociologists, most people re-evaluate their friendships every seven years. (Yes, there's even a seven-year itch for friendship.) Citing examples from her own research, Nelson also explains why some friendships take a nosedive or don't even get off the ground.
Understandably, introverts can get stuck when it comes to transforming acquaintances into comfortable friendships. But the whole process of making new friendships while maintaining old ones is a challenge for all of us — especially if we lack free time for social activities beyond work and family.
"Time together is the primary ingredient for forging friendships," Nelson told me in an online interview. "Unless your time together is automatic — meaning you're both paid to show up at the same job or both attend the same church — there is no other way to foster a friendship without someone initiating that time together. Growing a friendship requires initiation. A lot of it. Repeatedly. And it doesn't need to be 50/50 with two people taking turns! If you want a friendship then you should be ready to reach out and invite several times."
We live in a world where relationships shift. Sometimes, through no fault of our own, we will have to rebuild community around us. — Shasta Nelson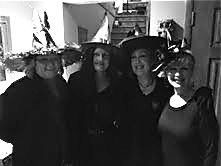 Last year was a turbulent, pivotal year for me, starting with my mother's recurring trips to the ER and culminating in her permanent move to a nursing home. More than ever, I needed to make an effort to have some fun — even in the midst of my family's medical drama. I needed time with friends.
As much as I appreciate my writers' groups and book clubs, I still found myself craving conversation that wasn't about writing, career goals, or the novels I've read. I wanted some old-fashioned girl talk; the nurturing energy of women. So I followed one of Nelson's suggestions and made a mental list of new and old friends with whom I'd been meaning to reconnect, then contacted each with a social plan. It did me a world of good.
Last month, for instance, two of my neighbors and I met for a holiday kick-off dinner. (One had just moved in last year, but we rarely glimpsed each other across the street.) Over a bottle of wine at a local restaurant, the three of us spent several hours getting to know each other better. We had such a nice evening, in fact, that we're talking about starting a monthly dinner club, perhaps including other neighbors too.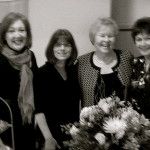 Friendship sustains, validates, comforts, and supports us through life's challenges. Writing for U.S. News & World Report, Tom Sightings reported that relationships with friends bring "longer lasting feelings of happiness" than entertainment or educational activities. "Yet paradoxically, the number of friends you have on Facebook or any social network has no bearing on how happy you are," Sightings wrote.
Other experts claim that having close friendships can decrease our risk of cancer and other health crises. Shasta Nelson even suggests that friendship can change the world, and I believe she's right.
If you're ready to build healthy friendships in 2014, treat yourself to a copy of Nelson's book. You'll be rewarded with more than you bargained for.
Here's to a wonderful new year of friendship for all of us!
Photos and original artwork copyright Cindy La Ferle