At midlife, our hearts and bodies often become increasingly sensitive to things that no longer serve us." — Christiane Northrup, M.D.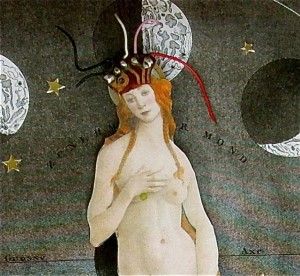 Long before the weird heart palpitations started, my first warning was a never-ending series of medical appointments on my day planner.
Not one of those appointments was for me.
Three years ago, I'd purchased a new day planner to keep track of my widowed mothers care management. While transferring dates and phone numbers from my previous planner, I noticed Id driven Mom to nearly 50 medical appointments in less than a year — yet I'd neglected to schedule an annual physical for myself.
Unable to drive due to her progressing vascular dementia, Mom lived alone in her condo then, relying solely on me to help maintain her "independence." Between regular trips to Moms cardiologist, urologist, audiologist, primary care physician, pacemaker clinic, and various surgeons, I was lucky if I could book a free morning to get my teeth cleaned.
Friends told me I was looking tired, but I ignored them (and thought they were being cruel). Months of worry and caregiving were starting to take their toll — yet I was too frantic to notice.
The beat goes on and on
Since March of this year, Mom has fallen twice, first fracturing her back and later shattering her ankle. (By this time, we'd finally made the difficult decision to move her, totally against her wishes, to a skilled nursing care facility.) These episodes required three extended hospital stays and two surgeries — plus weeks of physical therapy.
Meanwhile, I endured two minor surgeries of my own, but ended up spending my recovery time overseeing my mother's care at the hospital. I would try to care for myself later, I promised.
Visiting Mom at the hospital, I could feel my blood pressure rising every time she insisted she was "perfectly capable" of caring for herself at home. Deluded by the insidious fog of dementia, she refused to believe she'd broken her ankle and was unable to walk — even when we pointed to the cast on her leg.
Over and over, she'd ask: Why are you keeping me here, there is nothing wrong with me … Why can't I go home now?… When are you taking me home?
By August, I'd developed some alarming new symptoms of my very own — including heart palpitations — and a wretched case of insomnia. My heart would pound for no reason — even while I was relaxing in front of the TV.
It scared the hell out of me, unpredictably, several times a day.
I was terrified enough to finally schedule an appointment with Dr. Paul Ehrmann, my family doctor, who ordered several tests. As Dr. Paul explained it, I'd been living on adrenaline fumes after functioning on "high alert" for the past couple of years.
Taking versus giving
More than one-third of caregivers who provide continuing care for a spouse or another family member are doing so "while suffering poor health themselves," notes a study cited by the Family Caregiver Alliance (www.caregiver.org). Not surprisingly, middle-aged and older female caregivers are more susceptible to heart disease, hypertension, and depression than those with no caregiving duties. The stats are sobering, so I won't go on here.
"In many midlife women, heart palpitations are primarily caused by increasing heart energy trying to get in and be embodied in a woman's life," explains Christiane Northrup, M.D., author of The Wisdom of Menopause. "My experience has been that our bodies speak to us only when we can't seem to 'hear' them any other way. When issues of love, issues of the soul, or issues of a woman's unmet passions cry out for attention, they often take the form of heart palpitations."
Dr. Northrup challenges women to ask what could be weighing heavily on our hearts — including our key relationships. Are friends and loved ones "investing" as much in our emotional bank as we're investing in theirs? If not, why do we hang on to unbalanced alliances?
Of course, some relationships — family, especially — are not dispensable. I have no choice but to show up for my mother and to manage all aspects of her life, from finances to healthcare. But when others make silly or unfair demands on my time — or ignore my emotional needs — I have every right to question those relationships. My heart depends on it.
"When issues of love, issues of the soul, or issues of a woman's unmet passions cry out for attention, they often take the form of heart palpitations." — Christiane Northrup, M.D.
Reading Dr. Northrup's advice, I also realized I'd been putting everyone else's needs ahead my own for the past two decades. Starting in early motherhood, I'd completely redesigned my career goals around the schedules of my husband and son. As soon as my son left for college, my widowed mother's health began failing, throwing me unexpectedly into the role of full-time caregiver again.
Hearing the heart sounds
Once we "listen" to what our hearts are telling us, Dr. Northrup says, our symptoms begin to fade — though it's always best to have them checked by a physician, as I did.
Even though Mom has been in a nursing home for several months, I have to remind myself that I needn't worry about her 24/7.  Professional caregivers are being paid to tend to her needs.
I've also learned that it's best to avoid visiting her when I'm feeling especially depressed or exhausted.  Mom still begs me to take her "home" — which inevitably leads to more heartbreak and frustration for both of us. The social worker at the nursing home has suggested "redirecting" our conversations to focus on happier memories — which rarely works for anxious dementia patients like my mother, but I keep trying.
Though it might seem otherwise, this post isn't a pity party. I fully accept the privilege of being part of a family — which often includes caring for a chronically ill (or incredibly difficult) elderly parent. I hope it serves as a warning for anyone fulfilling the role of caregiver while navigating her own middle years — years that inevitably present health challenges and other turning points she might ignore at her peril.
It's time to listen up. Listen to your heart.
The artwork in this essay — "Cycles of the Muse," by Cindy La Ferle —  is featured in The Rust Belt Almanac, a new anthology of art, fiction, and poetry about growth, change and loss in America's Rust Belt. Copies available for purchase on Amazon.com.