Deep summer is when laziness finds respectability." — Sam keen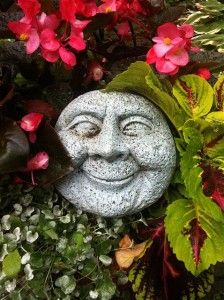 After taping her last television show in 2011, Oprah Winfrey announced on Facebook that she was planning to kick back and savor her free time. "My new ambition is to make a treasure of the small moments," she wrote.
Thats not what youd expect from the super-achieving Winfrey – or from anyone else whos built a career out of interviewing A-list celebrities and unveiling The Next Big Thing. But her ambition to play small, at least for a little while, left a deep impression on me.
Like everyone else in Michigan, I look forward to summer all year long. According to my day planner, there are nine precious weeks left – weeks that will fly off our calendars faster than a Sea-Doo on Lake Michigan.
Taking inventory of what Ive accomplished since June, I realize, sadly, how little time Ive spent puttering in the herb garden or chilling out with a "beach read" in hand.  Real life keeps getting in the way. So, before summer packs up its beach bag and clears out for a new school term, I'm borrowing a page from Oprah and indulging in some low-tech, simple summer pleasures. Heres the rest of the plan:
Summer vacation unplugged
–Ill reread Ray Bradburys classic, Dandelion Wine, a semi-autobiographical novel chronicling the authors magical summer of 1928. Unabashedly nostalgic, the novel is both a love letter to summer freedom and a sonnet to childhood innocence. You can borrow a copy from your local library, then read parts aloud to your kids on the front porch swing if youre lucky enough to have one.

— At least once a week, Ill splurge on a cup of chocolate-peanut butter ice cream from the local Baskin Robbins. (Note to self: If I walk or ride my bike to the shop, the splurge will be easier to justify.)
— In lieu of pulling weeds, or fretting over slug damage, Ill admire whats blooming in the garden.
— Ill make at least one more trip to northern Michigan, where Ill hunt for Petoskey stones, skipping stones, beach glass, and perfect pieces of driftwood.
— As author Sam Keen wrote: "Deep summer is when laziness finds respectability." Which is another good excuse for brain candy. With or without the beach, Ill crash in a deck chair with a beach-worthy novel and a stack of fashion magazines that have little or no redeeming social value.
— Movies are another wonderful way to escape reality, not to mention sweltering temperatures. To cool off last week, I laughed my way through "The Heat" with Sandra Bullock and Melissa McCarthy. A few days later, I was first in line to see "The Conjuring" — exceptionally scary and free of gratuitous gore.
— I promise to "unplug" from technology at least one day a week. That means no compulsive Web surfing; less e-mail checking. Instead, Ill indulge in some local "people-watching" at one of Royal Oaks outdoor cafes.
The benefits of chilling out
Psychologists agree that even a day or two of unstructured loafing ultimately enhances our productivity long after we return to work.
"Some of the best thinking we do happens when the conscious mind is on a sabbatical," Veronique Vienne notes in The Art of Doing Nothing (Clarkston Potter; $17). She reminds us that Thomas Edison discovered the light bulb filament "while idly rolling kerosene residue between his fingers."  Likewise, Einstein pondered the mysteries of the universe with a cat in his lap.
"So dont get up from your lawn chair yet," Vienne advises. "Contribute to science. Stay prone as long as you can."
Of course, its always fun to anticipate and celebrate the major milestones of our lives. But we need a reprieve from pithy graduation speeches about beginnings and endings. And we need a break from wedding receptions, family reunions, baby showers and other "special" summer events that require a gift or a new outfit or another dish to pass. We need flip flops and ordinary time.
Come August, I want to say good-bye to summer knowing that Ive squeezed every last drop of its sweetness and savored it all.
Top photo credit: Cindy La Ferle