I went from resenting my mother-in-law to accepting her, finally to appreciating her. What appeared to be her diffidence when I was first married, I now value as serenity." — Ayelet Waldman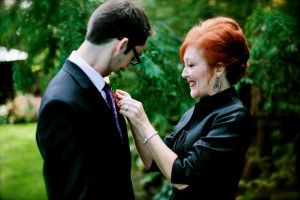 Earlier this week, The Wall Street Journal ran a feature stating the obvious: "Mothers worry more when sons marry than when daughters marry," according to researcher Sylvia Mikucki-Enyart.
Duh. I'm hardly a leader in the field of social psychology, but I've telling my son Nate the same thing ever since he married last fall.
Even in the happiest circumstances, the family dynamic changes significantly when adult children marry. Whether were debating where to spend the holidays or how often to phone the newlyweds, everyone has to adjust or compromise.
Google the term "mother-in-law," and you'll find dozens of crude mother-in-law jokes and blogs describing toxic in-laws from hell. From Joan Rivers, for instance: "I told my mother-in-law that my house was her house, and she said, 'Get the hell off my property." Cast as the witch in American family mythology, the stereotypical mother-in-law is blamed for poisoning marriages and spoiling grandkids. No matter what she says or does, shes the proverbial scapegoat at the extended-family dinner table.
Of course, I want to avoid becoming this woman at all costs. Thankfully, I can revisit my own family tree for positive role models.
When I married 32 years ago, I felt awkward around my husbands mother, an emotionally distant woman whose personality was so different from mine. At the time, my own mother was quick to remind me that a cozy relationship with ones in-laws rarely evolves overnight.
Early in her marriage, Mom was uncomfortable with my dads mother, Ruby, a dowdy Scottish immigrant and teetotaler. Ruby was the polar opposite of my mothers alcoholic parents, and her brogue was so thick that my mother wished she could hire a translator.
Over time, however, Mom learned Rubys language of unconditional love and often turned to her in times of crisis. Serving comfort and counsel with bottomless pots of tea, Ruby provided the maternal stability my mother always lacked.
My new daughter-in-law, Andrea, hails from a happy family with solid Croatian roots, and isnt the sort wholl need Scottish-island wisdom or scone recipes. Having watched her grow up with Nate through high school and college, Im proud of the capable young woman shes become.
Given such a blessing, who wouldnt strive to be the worlds best mother-in-law?
Nate reminds me that Im "over-thinking" this phase of parenthood — a habit I can blame on my career as a family columnist. Even so, if hes lucky enough to be a father someday, hell find that letting go of ones children is the trickiest step to learn in the circle-dance of life.
All said and done, most of us have watched enough Dr. Phil to know we shouldnt meddle in the lives of our married children, and we know that our new extended family is likely to bring different customs to the table.
But I believe the rest is up to each of us: We decide how much love and effort to invest in our key relationships.
Meanwhile, I want my new daughter-in-law to know that Ill never compete for my sons attention; Ill do my best to respect her boundaries. Yet I want to be at the top of her list of women she can count on. And as our familys future unfolds, I hope shell turn to me whether she needs a book recommendation or a babysitter — or someone who will listen with an open heart.
Parts of this column originally appeared in Michigan Prime magazine, February 2013.
–Top photo: That's me helping my son Nate with his boutonniere, moments before his wedding.–