Caregivers are forced to let go of a loved one little by little, again and again, sometimes over a span of many years." — Leeza Gibbons, Take Your Oxygen First
Crafted from fine cotton yarn, the black cardigan sweater became a staple in my spring wardrobe after my mother bought it for me 10 years ago. Rediscovering it in the back of my closet last week, I suddenly recalled a happier memory of Mom – a time when I wasnt overwhelmed by what social workers describe as "caregiver burnout."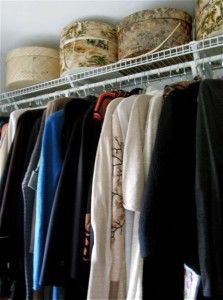 And then came an unexpected flood of tears.
Its not like me to fall apart over a sweater while Im reorganizing my closet. Usually, I welcome the chance to shove my winter-weary woolens back into storage and replace them with the lighter fabrics of spring.
But then again, my mother hasnt been herself for several seasons, either.
Things began to unravel after my son left for college — just when my husband and I earned the freedom of our newly emptied nest.
First, we noticed Mom was repeating her favorite stories more often than usual. Then her friends would call to report that she'd forgotten to show up for club meetings and lunch dates. She'd drive herself to the ER during her panic attacks, which started occurring with alarming frequency. Not long afterward, her doctors told me to confiscate her car keys.
Mom was 79 and had been widowed for 16 years when she was officially diagnosed with vascular dementia in 2009. She was also battling heart disease and severe hearing loss.
Her only child, I was handed full responsibility of her medical care along with a checklist outlining her worrisome diagnosis.
"Start researching senior housing with memory care – now — so youll have choices," her primary care physician advised. The doctor also asked if I had durable power of attorney (which I did) and reminded me to get all the legal documents in order.
At the time, Mom lived alone in a condo near my house. She refused to consider any type of senior housing, regardless of the fact that she'd been in and out of William Beaumont Hospital half a dozen times, and averaged 45 medical visits annually for countless illnesses, real and imaginary. (I took her to every single one.)
Facing the reality
More than anything, I wish my mother would have helped map the course of her own future. But no matter how tactfully I approached the topic of assisted living — and offered to schedule tours of the best facilities — shed look at me as if Id asked her to move to the Outer Hebrides with nothing but a toothbrush.
Regardless, I researched several senior housing options on my own. And just as the doctors had predicted, the decision was made for us — after yet another trip to the ER with Mom in December of 2011.
The research Id done earlier made our next step a little easier. While my mother recovered from heart surgery at the hospital, my husband and I put a deposit on a studio apartment at an assisted living residence near our home. We moved her there the day she was released from rehab.
By this time, Mom's dementia had progressed to the point where she couldn't remember that she'd had surgery and spent weeks in the hospital. I tried to preserve her dignity while sugar-coating the progressive dementia issue. I reminded her that her health and safety were our biggest concerns. Through it all,  she insisted she was "perfectly capable" of caring for herself at home.
And how could I blame her for denying reality?  Lately, I wish I could rewrite the whole scenario, too.
The grieving process 
Saddest of all, dementia robbed Mom's interest in almost everything she once enjoyed — Early American history, needlework, reading, lunch with friends. And clothes shopping.
In her prime, Mom had elevated bargain shopping to an art form, taking pleasure in scouting for gifts for people she loved. Even when I reached middle age, she'd insist on purchasing a new item of clothing for me whenever the seasons changed.
Which brings me back to the black sweater I mentioned at the start.
Ten years ago, Mom knew Id been hunting for such a sweater — a classic black cardigan that would bridge the seasons. I'd shopped at several stores in two malls — but with no luck. Id nearly given up when I discovered a T. J. Maxx shopping bag hanging from the side door of my house one afternoon. In it was the perfect black cotton sweater, which Mom had found on sale at one of her favorite haunts.
When I rediscovered it last month, my unexpected tears released a tsunami of mixed emotions.
Until then, Id been raging inwardly at the dementia that had devoured my mother's mind and rendered her incapable of making her own decisions. I hadn't fully realized that I was grieving the loss of my "real" mother — the woman who had shared her wisdom and recipes, encouraged my career, babysat my son, and took delight in buying me new clothes.
Facing the unfixable
The ongoing nightmare of dementia is hard to explain to others who haven't walked through this dark tunnel with a parent or a spouse. Whether you're talking about Alzheimer's disease or vascular dementia, helping a loved one with a memory loss disorder isn't the same as nursing a heart condition or a broken limb.
"With memory loss disorders, there is no comfort to be found in hoping for future recovery or improvement," writes Leeza Gibbons in Take Your Oxygen First, an excellent guide to caring for a loved one with memory loss.
"If we don't grieve for what we have lost, we can't experience what we have now," Gibbons goes on to explain. "In the end, life isn't about choosing what happens to us; we only get to choose how to respond to it."
As I write this, Mom is in a nursing rehab facility after fracturing her back at her assisted living residence last month. Her team of physical therapists can't determine, at this point, if she'll learn how to walk again. She is twice as fearful and confused. I do my best to remain strong for her, though I'm often exhausted, hopeless, and resentful — and ashamed for feeling that way, too.
In my better moments, I learn everything I can about my mother's health problems and advocate for her 24/7. I've also learned to guard my own health — and my time — knowing that I'm not the only one who depends on both.
Meanwhile, the black sweater serves as an emblem of my mother's best years; a tangible reminder of her former self. But I doubt that I'll wear it again. It doesn't wrap around me as well as it did when Mom first gave it to me — as if to remind me that I'm not the same woman I was 10 years ago. — Cindy La Ferle
For tips on dealing with caregiver stress from the Mayo Clinic, click here.