I think that I cannot preserve my health and spirits, unless I spend four hours a day at least – and it is commonly more than that – sauntering through the woods and over the hills and fields, absolutely free from all worldly engagements."  ~Henry David Thoreau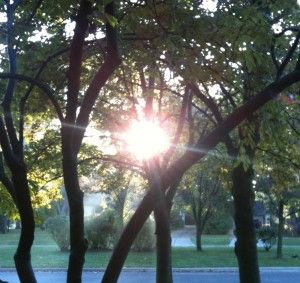 To my Facebook friends: I've temporarily deactivated my Facebook account this week.
As many of you know, my mother fell and fractured her hip recently. She's recovering in a nursing center, and I'm often called on to advocate for her. Meanwhile, I've received many thoughtful (private) Facebook messages that I've neglected to answer — and I apologize for those oversights.
At stressful times like these, I tend to function best when I pull back, turn down the noise, do a reality check, and spend some quality "face time" with my posse.
This isn't the first time I've deactivated my Facebook account. Last year I wrote an article about taking time off from Facebook, and was surprised by the hundreds of positive comments I received. That three-month break turned out to be one of the healthiest and most productive periods I've experienced in recent years — which is why I recommend short "retreats" from social media to everyone, from time to time.
But back to the present. When time allows, I'll post a few essays here on the topic of dealing with elderly parents who suffer from dementia, knowing that many of you can relate to this ongoing midlife challenge. Thanks for your understanding — and I look forward to catching up soon. — Cindy La Ferle