Be on the alert to recognize your prime at whatever time of your life it may occur."  ~Muriel Spark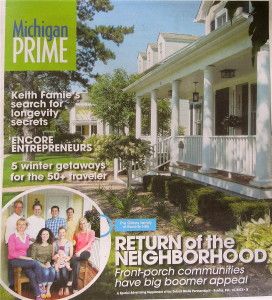 A supplement to The Detroit News and Free Press, Michigan Prime (formerly Michigan Senior Living) has a new title and design.
I've been writing a personal column for the magazine since June of last year, fulfilling my longtime dream of reaching a large audience of fellow Baby Boomers. So far, I've written columns about the decision to place my mother in assisted living; how to write a memoir; anger management; why self-care isn't selfish; and more.
I'm always open to fresh ideas and midlife adventures for future columns, so please feel free to send me a private message using the "Contact" tab (above) on this site.
My goal for the bimonthly column is to inspire others who want to embrace the freedoms, changes, and challenges of the second half of life.  Even if you don't live in the Detroit area, you can read Prime online, where you'll find my current column, "A Mother-in-law in Training."