"Life beats down and crushes the soul and art reminds you that you have one" — Stella Adler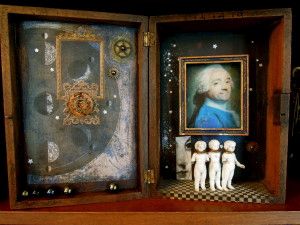 Not long ago, a friend asked: Which came first — making art or writing stories? Her question got me thinking about the new direction my creative life is taking.
Looking back on my childhood, I recall watching my mother as she mixed her oil paints on a glass palette. In those days Mom worked at home as a color artist, tinting portraits of brides and high school students for local photography studios.
Like most kids, I was fascinated with art supplies, and seized every opportunity to make a mess. There's an old family story about the time I grabbed one of Mom's paint brushes, then somehow ended up in the emergency room with the brush stuck in my nose. I was barely a year old — but the accident never discouraged my urge to dabble in art.
Over the years, however, my interest in books and writing grew stronger. And while I always managed to take art classes, even in college, I was discouraged from trying a career in art. How many artists make a living selling their work?
My college professors urged me to pursue writing. I could argue my way through any topic, and was even advised to consider law school. (I know … I can hear you laughing.) After college, the field of journalism wasn't exactly wide open, but I managed to find interesting work at publishing companies, magazines, and newspapers.
But I shouldn't have been so surprised to learn that making art gave me the creative freedom I'd been missing from the calculated process of writing and editing."
After I married and became a mother, freelance writing provided the flexible schedule I needed. The writing life was near-perfect for two decades, in fact, and I loved it.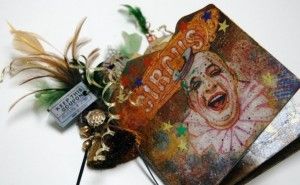 By the time my son left for college, however, freelance budgets began evaporating. Publications folded up and disappeared like traveling circuses. And while I didn't suffer a full-blown midlife crisis in my empty nest, I desperately needed to be excited about something again.
Why not art? Heading to the local craft supply store, I felt my heart lift for the first time in ages. I started making cards and notepads for friends, then tried bigger projects — altered books, shrines, and mixed-media assemblages. I made mistakes; I learned new skills.
All along, it occurred to me that I was still telling stories — just using different materials. But I shouldn't have been so surprised to learn that making art gave me the pure creative freedom that I'd been missing from the calculated process of writing and editing.
Not that I'm giving up the writing life entirely — but I've decided to make 2013 my official "Art Year."  I've promised myself to create at least one new art project a week, whether it's a birthday box for a friend or an entry for an art competition.
Though I've had several of my altered books and collages accepted in Michigan art competitions, one of my long-range goals is to have enough quality work for a solo art show. And I'd like to start selling a few of my pieces. Maybe I won't make a living as an artist, but my soul is telling me to follow my heart — before any more time gets away from me.
So far, I'm off to a great start. Two of my pieces were selected for the Anton Art Center's 40 Michigan Annual (through February 23), and I recently learned that several photographs of my pieces were accepted for publication in a new anthology showcasing writing and artwork from the Midwest.
If you'd like to have a look at what I've been up to in my studio, please click here to visit my project gallery on Facebook. For regular updates on all of my projects, please "like" Cindy La Ferle's Home Office and Studio on Facebook.— Cindy La Ferle
— Original artwork by Cindy La Ferle. For a larger view of both art pieces shown in this post, please click on each photo. —